Divine Comedy - a setlist
Belfast, 25 June '99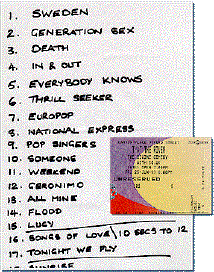 On a warm, balmy evening, The Divine Comedy (aka Neil Hannon) brought their detailed, flamboyant pop arrangements to an enthusiastic, if meagre in number, Belfast audience. Supported by local Green Day wannabes, co.uk (terrible moniker, by the way!), the band surged into the gloriously operatic Sweden from their most recent album, Fin De Si?le. The album's harder edge translates well when played live, and as the band followed up with a swinging Generation Sex, Hannon was in complete control of the audience - his trademark smirk and raised eyebrow no longer disguised behind black shades.
With a smattering of tunes from their whole career, including Everybody Knows from "A Short Album About Love ", the album released on Valentine's Day, Hannon indicated that he has always been a quality songwriter. His deep baritone and witty lyrics (a Scott Walker/Morrissey hybrid?) are particularly strong on the tunes from Casanova, my own personal favourite Comedy album and Hot Press' Album of 1996.
But perhaps there is much more to come from this local-lad-done-good if the closing song to both this gig and their current album is anything to go by. Sunrise is a genuine, stone-cold classic - a song that has rarely been beaten for pure emotion this decade. And it proved a stunning, poignant finale to this home-soil gig. I've a feeling that The Divine Comedy will more than hold their own when supporting the illustrious REM this summer in Dublin?
Stephen McNulty
Why not leave a message for all visitors to the site on the CLUAS Discussion Board?