Yeah Yeah Yeahs (+ Female Hercules + Giveamanakick)
High Stool, Limerick, April 25 2002
The Aspersion Music Collective promised a night of dirty ass rock and roll of the highest degree, and they delivered with three quality acts.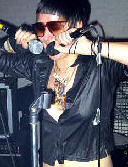 First up was Limerick's own Giveamanakick, consisting of Tooth / Goodnameforaband's Stephen Ryan on guitar and Keith"Lala" Lawlor from Calzino Fiasco on drums. Despite the fact that they suffered some pretty nasty technical difficulties that would have discouraged most bands, they preformed an almost flawless set. In a strange sense, they seemed like a tasty mixture of Christy Moore and The White Stripes (N.B. - I am not comparing the drummer to a woman!)
Next up was Dublin three-piece Female Hercules. Apparently, they've being around since the early 90s, but this was the first time I had the pleasure of seeing them. Fronted by a frontman with the best afro this side of defunct Texan rockers At The Drive In, they quickly set about their no frills, all balls rock. Their mantra could clearly be identified by one particular song title - "F*ck Art, Let's Rock!" While nothing intelligent or extremely original, you have to love the style with which their testosterone fuelled garagey sound entertained the Stool. Here's hoping they come back soon.
The headlining act tonight was the latest in majorly hyped American acts to hit our shores. New York's The Yeah Yeah Yeahs are the latest breakthrough act to disregard the whole idea of having a bass player (see also White Stripes, Jon Spencer Blues Explosion, and Giveamanakick!) The fact that they have played with all those acts (plus The Strokes) gives you some idea to what they may sound like. Given the NME's tendency to jump on any bandwagon (that bandwagon being currently anything American), being hailed by said publication can often be more of a curse than a blessing to a band's credibility. However, while a little over hyped, The Yeah Yeahs don't disappoint. "Art Star", taken from their current eponymous EP, is probably their finest moment to date (sample lyric:"I've been screwing on the tracks of old train stations"). It also showcases frontwoman Karen O's rather fine scream. It has been noted that she has brought sex back into rock. But if the Yeahs have one fault, it is that she has made it pretty obvious. The lyrics are predominantly one-tracked, and not very good at all. Also, she does at times seem a bit "much" for the audience, giving it all and trying too hard to entertain.
However, don't let this turn you off because the music ensures that the Yeah Yeah Yeahs are a quality live act. Pity we won't seem them in a venue like this again.
Ciaran Ryan

Check the CLUAS review of the Yeah Yeah Yeahs album 'Fever to Tell'.