Witnness Festival 2002
Saturday, July 6th, 2002 (Day 1)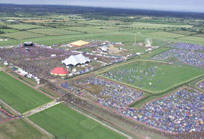 We all have our crosses to bear. Maybe you're tormented by personal 'demons', perhaps the taxman is crippling you financially, or has your girlfriend just left you for the postman? Well on the first day of the two-day Witnness festival, traffic is weighing thousands of music fans down. Stuck in a three hour tailback, we miss early sets by bands the calibre of Decal, The Jimmy Cake and Desert Hearts. Plus the 'Dance' and 'Up' Stages are closed until the evening. Things aren't looking too good.

But if anyone can pull this one out of the fire, or more aptly for today, the mud bath, it's the eclectic ramblings of Cornelius. The Japanese noisenik's jagged riffs and catchy melodies combine with eye popping visuals to invigorate and lift spirits. Not quite as infectious as he used to be, his imagination still leaves others trailing.

Jimmy Eat World's emo pop is accessible but hardly thrilling. Nice boys I'm sure, very sincere I'm sure. But their "Gee, I really like that girl but I wish I wasn't so dang shy" shtick is of little importance today. Though not the worst of the new wave of emo bands, they're a watered down version of their musical heroes.

Very few bands receive as much reverence as the Frames in Ireland. Whisper it, but maybe they don't deserve that much praise. 'Revelate' is a welcome blast from the past, and a rabid 'Debaser' finishes off procedures nicely. But listening to their set, there's a sense that high expectations haven't quite been met. At least not for this naysayer.

It's best not to set expectations too high when The Beta Band are involved as anything can happen. Thankfully today their (wait for it) laid-back-urban-tinged-folk-rock-crossover wins mass adulation. Helped (?) by fetching white suits and with lights all over their bodies, guitars and the stage, The Beta Band illuminate the dark and muddy Rising Tent. Oh and the crowd watching them also boast the higher SPP-spliff per person-count of the weekend.



One great idea is the Witnness VIP area, actually open to about 10,000 lucky winners. In there the Reindeer Section's Gary Lightbody plays a haunting solo acoustic set to 50 odd people. Seeing an artist staring back at you in a bright little tent is proof of the wonderful intimacy of this innovation. Now if only the organisers could sort out a decent dance tent line up.

Meanwhile on the Main Stage Green Day do their goofy punk thing. Only they're not punk at all, more hard bubblegum pop. Nonetheless, their greatest hits set ensures many people dance around and fall in mud. Not deep, like the mud, or clever, but at least it's fun.

Which is more than can be said for Sonic Youth, whose popularity has been founded on their past glories for years now. They came, they played dissonant guitar lines, mumbled a bit and remind us why once great bands shouldn't go on forever.

One band who are rumoured to be close to their demise is Foo Fighters, although you wouldn't think it by their fierce display. Dave Grohl is his usual effervescent self and has Fairyhouse in awe with choon after frenzied choon. Inventive they aren't, but the Foos are perfect for a festival.

The celestial majesty of Mercury Rev has been widely appreciated in Ireland since 'Deserters Songs' in 1999, now 'All Is Dream' has crept into music lovers consciousness too. Just about everything the Rev do is laced with magic tonight, transcending a swampy tent with orchestral beauty and Jonathan Donohue's fragile, childlike voice. They swoop, they soar and 'Goddess on a Highway' is as ever glorious. I've just ran out of superlatives.



Just as well really, as I won't have to waste any on Prodigy. Having kept an impatient crowd waiting for an age, they amble on and sound like they've never been away. Which means they sound the exact same as they did five years ago circa Fat Of The Land. It's sad to see a band who were always ahead of the pack stagnate and their cartoon electro punk act is frankly embarrassing by now. 'Baby's Got A Temper' courts controversy so deliberately that it reeks of desperation-'ooh, aren't we still relevant in 2002?' No. As the disgruntled troops marching for their buses will testify, Prodigy are a big disappointment.
Paddy McDonnell

Check out the CLUAS coverage of Day 2 of Witnness 2002