Willy Mason
Sugar Club, Dublin, 26 February 2005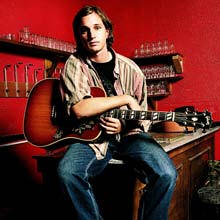 Review Snapshot:
Move over old "new Dylans", Ray LaMontagne, Bright Eyes et al. This week's new "New Dylan", Willy Mason, has landed. Feverish expectation collides with burgeoning talent in the Sugar Club.

The CLUAS Verdict?
7.5 out of 10

Full review:
Willy Mason is in upbeat form, and he has every right to be. Feted by fans and critics alike, the earthy folkster is intent on enjoying his "first pint of Irish Guinness", an act still legally beyond the 20 year-olds' powers in his native America.

The gamine indie girls may coo coquettishly in his direction, but they're outnumbered by the young males in the audience who are clearly here for a bit of hero worship. And who would blame them with Willy Mason's story reading like a modern Boys Own fantasy. The Martha's Vineyard native didn't even get the opportunity to flunk out of college, because he didn't go, and yet he's here, with a lauded first album under his belt amidst lurid claims to be the 'New Dylan' - rocks Holy Grail and poisoned chalice all rolled into one.

Mason doesn't seem unduly rattled by such lofty comparisons. A bedraggled appearance and affable demeanour belie a slacker confidence. His voice, a knotted drawl, is at varying times tender and guttural. 'Where The Humans Eat'- the title track of his album - is a coruscating tirade; Mason coyly announces afterwards, it's directed at his cats. He shows his pedigree with a gentle Hank Williams cover, and a pair of songs written by his parents.

Mason is a natural performer. His set may have some filler, but it is devoid of hit-and-miss rawness one would expect from such a nascent career. Even the less thrilling numbers amble along pleasantly, not entirely diverting, but never reaching 'mass exodus to the bar' disapproval.

'Oxygen' proves to be the night's undoubted highlight; a catchy clarion call for Willy's Conversed comrades, polemical agit-pop of the highest order. The crowd are only too eager to sing along. So it's full of idealised tosh about mobilizing the masses and 'sticking it to the man', but Mason's exuberant delivery would soften even the most hard-boiled of cynics. If he disappears tomorrow, his legacy is sealed with that one song.

But he won't. Mason's precocious talent should merit interest for a while yet. The burden of expectation could prove to be a millstone, but not if he embraces it. While not suggesting he embark on a full scale pastiche of Dylan's career, if Mason were to, say, go electric, get a band, get divorced, find God, appear in a Victoria's Secret ad, whose to say the results wouldn't be exciting?
Mark Keane



Feel free to discuss this review on our Indie Music Discussion board.