Whirlygig
The Shelter, Dublin, 15th March 2001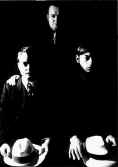 Whirlygig shuffle into position on the Shelter stage looking like children in a school play. Dickied out in borrowed pinstriped two-pieces and second-hand fedoras, the whole ensemble reeks of 'eau de amateur review'. And the set is disjointed as you might expect from such a production. Whirlygig are to be commended for their bravery in breaking through the suffocating strictures of trad to breathe new life into the old bellows. When it works, the level of accomplishment is astounding. Then: breathtaking instrumentals fuse traditional jigs and reels with ethnic percussion and strings; a celloed introduction pinched from the soundtrack to the Godfather melds into the most melancholy low pipe fugue - made all the sweeter by several false starts on the wrong low pipe (reducing us to - wait for it - whirlygiggles!) It takes considerable skill with arrangement to make things like this successful.
The resulting music is compellingly original enough to make you wonder why they felt the need to bother with the funny get-up. Similarly, they have enough singing instruments in their line-up - pipes, accordion, fiddle, cello - to make you wonder why they feel the need to bother with a singer! Certainly, none of these other instruments is likely to deliver the line, 'and you know what really annoys me' in a tone flatter than the flattest of deadpans. The vocal songs puncture the set like a rusty nail, sounding as confused as you might be if you were the bastard son of Shane-Johnny-Jacques Brel-Cash!
Still, in all their whirlywigginess, Whirlygig set out to do more than play an 'oul sess?n. They mean to entertain and that they do. They may be wearing their Dads' old suits but they sure can play like mothers!
Carol Keogh