Watercress
Zack's, Donegal town, 16 Oct '99
Four people on the stage: a pointy-sideburned drummer, a hairy head-banging double-bass player, and two skinny sweaty smiley Northerners hoppin' and buck-leppin' around the stage, singing in close harmony and playing guitar, mandolin, trumpet, Cuban percussion and Wavin? pipe didgeridoo like there is no tomorrow. The music sounds like the bastard son of the Specials, The Undertones (unplugged), Pucho and the Latin Soul brothers and a Hungarian wedding band. The band rock. Everybody's dancing. Everybody's happy. What's going on? It's a Watercress gig!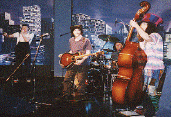 My first experience of Watercress was at the Phoenix festival in 1996, at eleven o'clock in the morning on the second day. It was scalding hot and everyone was hungover, dirty, sleepy, grumpy. Watercress came on and next thing you know the crowd was proceeding to jump up and down for sheer joy. They succeeded in banishing the morning-after blues with a mere 20 minute set. Every time I've seen them since it's been the same ... I wanna dance, I'm in a good mood, I just can't help myself. Hardened non-dancers have been known to put down their pints and shake their thang. You're a hard man indeed if you can resist 'Trouble', their 15-minute dub-reggae epic which, when it arrives halfway through the set, is the signal for hell-for-leather from here on in.
In Zack's, Cecil's Flea Circus opened up (heavily under the influence of Pavement, which is not a bad thing) and did a fine job of it too, finishing up with 'Take on me' (by A-ha ... remember?), after which Watercress strolled on stage and took the place by storm for the guts of two hours. They kicked and jumped, threw shapes, rolled their eyes, put new spins on their own songs and hopped and cut dj-fashion between an ever-changing collection of mad covers (rap tunes, Muppets stuff, 'I Will Survive' etc. etc.). The joint was jumpin'. They were amazing. I'm putting myself in good form just remembering the gig.
So, do yourself a favour! Get happy! Be amazed! Go and see them!
Cormac Parle
P.S. They have an album out called 'Bummer' which doesn't really live up to their live show, but is nevertheless very good and well worth checking out (you're best off buying it at a gig, cos the band get more of the money that way). You can find out when they'll be in your area next on their website - http://www.watercress.net.