U2
Croke Park, Dublin, 24 June 2005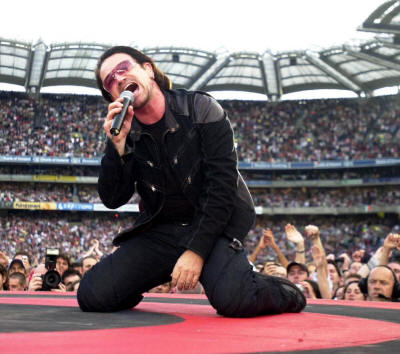 Review Snapshot:
U2 gigs are as much about the event as the music, especially when they come home. U2's return to Croke Park was likened to a Papal visit, appropriate given the amount of preaching done by Bono! On opening night in Croker, they took over Hill 16 in true Dub fashion. Anyone who'd done their homework knew what to expect, and they got just that (with an odd surprise) but it was great to be there.

The CLUAS Verdict? 7.5 out of ten
Full review:
U2 gigs in Ireland are like Lions tours - they come round every 4 years and they both bring a circus with them (metaphor kids!). Both circuses provoke heated discussion amongst the faithful - Should Wilkinson start? Will they play Electric Co.? Is Henson just a haircut? Does the Edge have hair!? These are all important questions and some of them were answered over the Croke Park weekend. The Lions appalling start to the Test Series on the Saturday morning is for someone else to talk about so what about opening night in Croker?

Well they were great. Predictably great. There is a lot to be said for experience with these guys, although some would call it good rehearsal. On the European leg of the Vertigo tour to date, they haven't strayed too far from a pretty constant set-list, but it is some set-list! There are usually one or two surprises in every set-list - tonight it was 'Who's Gonna Ride Your Wild Horses?' (only the third time U2 have done this song live) and an impromptu tribute to Thin Lizzy's 'Jailbreak'.

In between outfit changes, it was vintage Bono on stage. He spoke about rain on the Northside, then he sang a snippet of 'Here Comes the Sun' and the rain went away - well that's how it seemed anyway! He read out a poster in the crowd that said 'Welcome home Bono, see you in Rome' and it was time for a stream of consciousness from the platform shoe preacher: "Rome..... the Spanish steps.... Keats died in Rome.... he died a poor man.... well we're not poor and that's thanks to you people for giving us the chance to live a life we love" - it sounded like an ?res Match Bono on stage but the crowd got the point and applauded, proving it is possible to love and hate Bono at the same time!!

As for the music, it sounded fresh and had energy, you wouldn't think they had been dragging these songs around the States like some sort of human jukebox since March. A quiet build-up at the start of 'Elevation' really got the crowd singing - Bono conducted and made the Edge and rhythm section wait for their chance to let rip. But it was once it got dark that the show really started.

The band rocked out during 'Love and Peace Or Else' - Bono even brought the song to an end with some surprisingly determined drumming from the B-stage. This song took place under the symbolic image of 'Co-exist' on the massive metal screen behind the stage. The visuals on this screen became the enduring image of the concert as the evening got darker and darker. 'City of Blinding Lights' was accompanied by the backdrop of a virtual city - very impressive, even though a crane behind the screen could be seen throughout! A drop-down of the flags of Africa featured during 'Where The Streets Have No Name'. I won't go into Bono' s Africa lecture - there's enough out there on this already - but I did feel his advertising for the 'One' campaign (although a worthy cause) took away from the power of the song itself. Nevertheless, seeing the stadium lit up by 80,000 mobile phones at the start of 'One' was pretty special and made you appreciate being in Croke Park as much as being at a U2 concert.

It was a great night for Croke Park and it was great that U2 had the songs (and the show) to do the place justice. God knows what U2 will serve up again in four years time. But didn't we say that after Slane residency back in 2001?