Turn
Temple Bar Music Centre, Dublin, May 4th 2002
While the crowd-followers had spent their hard-earned cash on tickets to see the over-hyped White Stripes in Dublin Castle the wiser folk were in the TBMC to see Turn give one of the best live performances to date.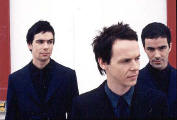 Heart Attack and Beeswax got the crowd going before the set list mellowed slightly. Along with the staple favourites the band played the excellent new single 'Summer Song', which is sure to get plenty of airplay over the coming months.
Closing the quieter part of the gig with 'This Is Not A Love Song', Ollie Cole ramped things up with 'Beretta', 'Too Much Make Up', 'Never Needed You' and 'Queen Of My Heart' which together provided the necessary forum for the audience to let loose. The latter gave drummer Ian Meleady the opportunity to showcase his excellent vocal talents - urged on by a supportive crowd. An impromptu version of 'Hotel Yorba' and some stage antics involving a giant inflated bottle of Heineken reflected the fact that fun was being had both on and off-stage.
A flawless, high-energy performance coupled with a unique brand of onstage camaraderie is what Turn gigs are all about. But on this occasion there seemed to added enthusiasm on the part of the crowd and the band. The fact that an independent Irish band could pack out the Music Centre on a night when the big names were churning out puzzlingly-popular formulaic tripe in Dublin Castle says something special.
When a member of the audience threw an unused White Stripes ticket on stage that said it all. Turn 3 - White Stripes 0 - a clear victory for the home team.
Roisin Dwyer