Supergrass
Benicasim Festival, Valencia, Spain, August 2 2002
David Bowie's alive and well and by the sea in Benicassim tonight. He's alive and very kicking in Gaz Coombes' body. Maybe it's got something to do with the fact that Danny Goffey's brother makes the Duke's videos these days.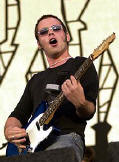 Supergrass are walking examples of the art school cheekiness synonymous with the better British bands down the years. Back stage Danny and Gaz are telling reporters the secrets of youthfulness. "Drug abuse, plenty of alcohol, masturbation..." whisper the greasy idiots.
Thankfully they can honour the cheques their loose tongues write. Out on the huge Green Stage Supergrass are Bowie, the Kinks, the Stones and all their other heroes wrapped up in one neatly intelligent piece of retro. Loudmouth drummer Danny Goffey is a dead ringer for Keith Moon, all in white, shaggy hair bouncing about as he attacks the drum set like the incomparable Moon did on his best nights. Speed and power are Goffey's assets as he drives the Supergrass engine, grooving terrifically with increasingly bloated bassist Mickey Quinn.
On new song "Grace" Coombes displays his lyrical nous, the ability to create the great from the grit. "Save your money / you ate our chips / drank our coke..." he yells.
Prancing about with all the charisma of Jagger minus horrible trousers, Coombes and co wallow in the sixties feel they create, the trio bathed in the soft red-orange lighting, haircuts very the Who. Coombes even manages that very Jaggeresque crowd greeting, "allwoight, how ya all doin'" like a Cockney lost in Brooklyn.
A lolloping cross between Madness and the Kinks, Supergrass are exuberant, exhilarating live performers. They're in it for the fun, for sure. With their perfect blast of noisy guitar pop, breezy lyrics, catchy lyrics, irreverent sound and image this band encapsulate all the best things in pop music.
The addition of keyboardist and Gaz's brother, Bobsie, works very well, with the elder Coombes alternating the band's sound just enough to make it more interesting while not interfering with the overwhelming chemistry and charisma of the principal trio.
Song three kicks off with a gorgeous organ intro shrouding Coombe's "yeah, yeah, yeah!" whine, like a cat coming in heat. Moving on, Coombes opens up with an acoustic guitar on "Moving" before Goffey and Quinn get back in on the act on "Sun Hits the Sky" perhaps the best song of the set. It's almost bettered by the gorgeous riffs of Richard III. And that says a lot for the quality of the latter.
The keyboard wizardry and raw, ravishing energy of this set put it several shelves above more road-worn groups playing this stage. "... You should be ashamed" belts Coombes on 'Wait for the Sun'. And so they should. Caught By the Fuzz, 'Man-sized Rooster' and 'Wait for the Sun' are huge Supergrass hits but were almost unnecessary this evening. The crowd was wild and won before the final three songs.
Mark Godfrey