Steve Malkmus & The Jicks
Review of their gig in The Village, Dublin. 30 October 2003
On the face of it, everyone in attendance needed their head examined. With the rain bucketing down in biblical proportions, a few hundred alternative music lovers dripped their way past a callous looking doorman. In inclement conditions such as these, the temptation to venture outdoors needs to be great, and in the shape of former Pavement honcho Stephen Malkmus the allure was very strong indeed.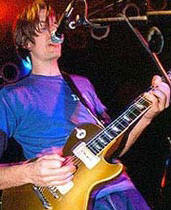 Since the demise of the much admired Pavement in 1999, Stephen Malkmus and The Jicks have released their excellent eponymous debut in 2001 and 'Pig Lib', the lauded but disappointing current release. Despite opening with the frantic Jojo's Jacket, the first half of the performance is a mellow affair, the band shuffling along with numbers from the current album. The inclusion of 'Sheets' and '(Do not feed the) Oyster' raise the decibel level noticeably but, despite repeated cajoling from punters, Malkmus refuses to delve into the Pavement back catalogue. Ex-Pixies singer Frank Black has said that if a current crop of songs cannot compete with the oldies in terms of quality, then he would be reluctant to play the latter in a live show. Perhaps Stephen Malkmus, on the evidence of tonight's performance, subscribes to a similar school of thought.

Half-way through the gig, the band start to display a sense of enjoyment in their work. Malkmus dances readily with his bassist Joanna Bolme and there is banter and merriment all round. Clearly the most talented musician in this ensemble, Malkmus eventually begins to win us over with his prowess on lead guitar, especially on a soaring version of '1% of One'. A piano version of 'Jenny and the Ess-Dog' titillates, and the night is rounded off nicely with The Velvet Underground's 'Pale Blue Eyes' and a few choice covers.

As Malkmus and his Jicks retreated backstage to finish their beverages, the punters flowed outside into the damp Dublin night, pleased enough with the outcome of a financial outlay of €21. While the talent of Malkmus cannot be disputed on the evidence of tonight's show, one got the impression that a few Pavement oldies would have brought the house down. Instead, the closest the faithful got to the back catalogue was the Crooked Rain that pelted into their faces as they left the venue. A scant consolation indeed.
Brendan Bradley

Check out the CLUAS review of Steve Malkmus' album 'Pig Lib'.