Staind
Review of their gig in the Ambassador, Dublin, 1 March 2006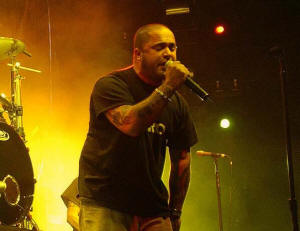 Review Snapshot:
It's been four years (nearly to the day) since Staind last graced Ireland's shores. So, three albums later, you would think they would be moving on to greater and better things. However it seems since the release of "Break the Cycle" the band have been pedalling backwards, venue-wise. But musically they have grown.

The CLUAS Verdict? 8 out of 10

Full review:
Arriving at the gig, with the support act well underway, I notice the crowd in fine form as the crowd moshing has started (much to the dismay of the stern bouncers). The young teenage fanbase Staind once built up seems to have remained in place. The stage itself is an eye catcher, with a massive backdrop to set the mood, and with an extensive road crew to match.

The main act take to the stage and (earplugs in place) they begin their eardrum-smashing set. Songs from all album's are included but it seems the "Break the Cycle" songs go down the best.
Singer Aaron Lewis is an odd front man. With his hat firmly in place he seems disinterested at times and also the most passionate at others. The set grows slowly and includes classics such as "Fade", "Take it" and probably their biggest international hit "Outside".
The mood of the early part of their set is definitely melancholic. "Epiphany" is a song most people would to come from your typical singer-songwriter. Aaron Lewis indeed delivers this acoustic without the band and with a swaying,-lighters-in-the-air atmosphere. The set slowly grows into a foot-stomping, hold-your-drinks-above-knocking-point type of gig. And before you know it the band go offstage. Only of course to come back for the expected 2-3 song encore. First encore "For You" had somewhat a more traditional Nu metal sound to it. Blasting out power chords to match even the greatest of rock bands.
Then Aaron introduces a song that he used to sing before the band. A song people would go to the bar for or go to the toilet or even leave. Funny how this receives probably the fans' biggest cheer. "It's been a while" is everything Staind are about. Passionate yet solemn, heavy yet soulful.

Aoife Traynor