Crayonz & Holy Ghost Fathers
Da2, Dublin, 15 December 2002
When one glances through Dublin's gig listings, the thing that strikes the reader other than the constant flow of quality in the capital is the painful price of witnessing a decent performance. Damien Rice feels that every person who sees him in Vicar St owes him 27 euro. Mundy, Ireland's other rising son, believes his fans must each pay 20 euro to see him in that shack on Dame St, the Olympia.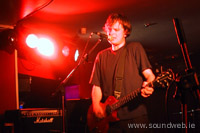 For those who need live music in their lives but can't regularly afford it, i.e. students, Gemma Williams set up the Soundroom in the upstairs of Camden Street's Da 2 Club. She funds the monthly showcase herself and by allowing bands to play for free, she ensures that the admission will always be cheap, i.e. 5 euro.

Luckily, the Soundroom doesn't cut corners on the talent which is provided. Holy Ghost Fathers, a Dublin four-piece, certainly aren't original but they write good tunes and make lots of noise which is enough for most of us. The title track from their 'Angelus Bell' E.P. is a prime example, sounding like a grungey mix between the Pixies and U2 in their Rattle and Hum days.

Unfortunately, Allen Blighe, the lead singer and main songwriter, doesn't possess a voice befitting the songs. While strong, the voice fails to make as much impact as the songs.

Holy Ghost Fathers were supporting the Crayonz who have just released their third single, 'Anything That Can Fly'. The Crayonz aren't as noisy or as clearly influenced by grunge music as Holy Ghost Fathers but the tunes are still there. Playing songs from all three of their singles, they're definitely a band worth keeping an eye on.

However, the live performance was somewhat lacklustre and, at times, downright boring. The songs are strong but, on occasion, the Crayonz could have made a greater effort at playing them.

This can be worked on, however, and Gerard Handrick, the lead singer and songwriter, has sufficient talent to keep the Crayonz on form.

If you need live music and want to investigate the Dublin rock scene, check out the Soundroom. It's a cheap night and is testament to the quality that is in Dublin music. This is where to hear it live.

And as for the location? The Da 2 Club is small and the sound is dodgy but that was said about the Dandelion Market in the 70's and U2 didn't seem to mind.

Donal Griffin

Music from the bands mentioned is available in Road Records.


Information about the Soundroom concerts is available at www.soundweb.ie


Photo above of the Crayonz is credited to www.soundweb.ie