Sinead O'Connor
Review of her gig in Vicar Street, 26 October 2002
The recently re-opened Vicar Street was looking well (but not much different if the truth be told) and was packed out by 8.30. Signs around the venue notified us that the gig was being filmed - upon asking the bouncers which station would be showing the concert, we were told "MTV, so smile for the cameras and turn off your bleedin' mobile phones". Yes sir.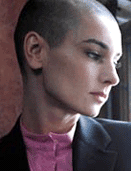 Myself and one of the other Marys passed the time playing spot the celeb untilDamien Dempsey appeared. An enjoyable set of urban folk with lyrics obviously coming from the heart, contrary to what we had heard this is no novelty act. He was gradually joined on stage later by some quality musicians (more later) - and, are we seeing things? There's the Baldy One herself on backing vocals.

Eventually to the main event, and Sinead O'Connor put in a performance to be eternally proud of. She marked out the evening ahead for the audience by pointing out that the "Irish stuff" would be done first and then she'd get to the old numbers. The opening song was a beautifully tender version of "Peggy Gordon" and, had the other Mary not coughed her lungs up throughout, you could have heard a pin drop. There followed a few numbers from the current album "Sean Nos Nua", the highlights being "My Lagan Love" and a rousing rendition of "O ro Se Do Bheatha 'Bhaile" with Sinead reminding us that we should have learnt it in school and to sing along, which almost everyone did.

A fantastic bridge between the old and new set was provided with "I Am Stretched On Your Grave" with the incomparable Steve Wickham on fiddle and Sharon Shannon on the squeezebox. Then we were treated to "Nothing Compares 2 U" - no tears though... There followed a selection of numbers from the earlier albums, my personal favourites being "Fire on Babylon" and "The Last Day Of Our Acquaintance", the latter providing John Reynolds with a chance to really let loose on the drums. Sinead wiggled her arse obligingly, much to the delight of the lads up the front.

A couple of well-deserved standing ovations later (boo-hiss to the cynics who think the crowds only hopped up to get their faces on MTV), we were treated to one last love song, just Sinead and Christy Moore singing "Lord Baker" unaccompanied. And who cares if he wasn't sure of the words or wanted to start again after the first verse - it's Christy!

Undoubtedly the gig of the year so far in my book. Can't wait to see if I can hear the lounge girl dropping my drink on MTV...
Jenny Whack