Shed Seven
Review of their gig in Whelan's, Dublin, Oct 3 2001
How would you describe Shed Seven? Perennial indie also-rans? The poor man's Oasis? the band who missed the Britpop boat? Most people raise an eyebrow when they find out The Sheddies have bothered the charts with alarming regularity over the years - 13 top 30 "hits", no less! Not too shabby by any standards. Not that you could name one, eh? Well, maybe not but a quick listen the their "Going for Gold" greatest hits and I personally guarantee a serious deja vu experience. You know these songs, you're not sure how, you just do!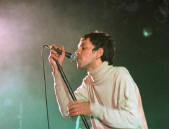 Rick Witter stalks the stage looking every inch the photo-fit rock star - waif like, rubber limbed and exuding a wide-eyed intensity bordering on dementia. To open, they smash through "She Left Me On Friday" which sets the tone for the night - karaoke, Shed-style. The punters are screaming along like their lives depended on it. A guy behind me is even singing the guitar solos! It's sweaty, it's rowdy, it's good-natured, it's fantastic! Respite is given with a smattering of tracks from their latest offering "Truth Be Told" which, clearly, nobody has bought. Then it's back to the crowd pleasers, "Disco Down" and "Going for Gold" simply lift the roof off Whelan's. Tune after tune of crunching guitars, hooky chorus and trashy lyrics, every one anthemic in its own right. The encore includes the storming "Getting Better" and "Chasing Rainbows", by a country mile their best song. It's been ninety minutes of good old-fashioned energetic, uplifting rock and roll and great fun to boot.
Before the gig I was wondering why Shed Seven are still flogging that horse? They are so wilfully derivative everyone from Elvis to The Smiths could probably sue for blatant riff theft. But hey! It's a blinding gig. They have that Wonderstuff aura about them, never going to one of your favourite bands but great value for a live sing song. And if the Sheds can still turn a buck and get a rush from it, more power to them! Everyone leaves smiling.
Brian Farrelly