Ryan Adams
Review of his gig in the Olympia, Dublin, 16 November 2003
The debate rages on since his performance in the Olympia. From radio to the Internet the divide seems fairly set between those who enjoyed the gig and those who were extremely disappointed. There seems to be no middle ground and I'll lay my cards on the table from the outset, it was certainly not Ryan at his best, but I'm not ready to write him off yet. If it's any consolation to the disillusioned Irish fans his European and American tour continues to divide people, though his sets do seem to be getting longer with at least a nod to his older albums.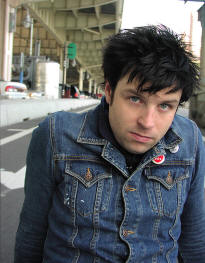 He arrived on stage trailed by his 6-piece band and immediately the number of guitarists signalled this was not going to be an acoustic show! Wearing a black suit, blue check shirt (perhaps a nod to his country roots) and dark rimmed glasses (?la Elvis Costello), he started the set with 'She's Lost Control'. It was a completely rocked out Ryan on show, taking large gulps from his bottle of champagne and staggering across the stage in front of his band, while yellow and red lights hit the stage with staccato beats of colour. He quickly followed with a blistering 'Note to Self: don't die' and 'Boys'. I would imagine any fans familiar with his latest album 'Rock N Roll' were able to make sense of the cacophony of noise at the end of 'Note to Self', with feedback from the guitars lingering, but any fans of 'Heartbreaker' or general interest people dragged along with talk of folksy, tear stained love songs, received a rude awakening.

As temperamental as ever Ryan threw aside his jacket before launching into 'Wish you were here' which felt a bit like a band jamming in a basement. After this Ryan began an imaginary conversation with a fan in the top tier of the Olympia, which left the whole place a little baffled. 'Shallow' was up next with 4 guitars spread across the stage producing a wall of sound. The place pulsated with the energy from the band.

On 'Luminol' there were traces of the melancholy voice that the crowd was waiting for but not enough. The disco ball illuminating the stage threw shadows across the faces of the band during the onslaught of music that was 'This House is not for sale', played much louder than on the 'Love is Hell Pt 1' EP. The lights turned yellow for 'World War 24' and then 'This is It' turned the stage a blinding green.

As '1974' rang out the lights went down and Ryan was on his knees, finishing up playing his electric guitar with his foot. 'Drugs ain't working' finished with the outro of "Los Angeles is dead" repeated over and over. And that was it.

The abrupt end started booing from some quarters. He came back and played 'Liar' and 'Don't Remember My Name' and in true rock and roll style, lit a cigarette, dropped it on the ground, played the song and then picked up the cigarette and finished it. There was more of a country sound to his last two songs but not enough to satisfy the fans who had been waiting all night for vintage Ryan, something from 'Heartbreaker' or'Gold'. For his second encore he appeared back on stage with just his guitar and the audience took a collective breath and waited to exhale until he finished a simply, spine-chilling rendition of 'I see Monsters'. There was absolute silence in the theatre, and then he was gone. The lights stayed down but he never reappeared, maybe he just changed his mind.

It was not a concert for the uninitiated, nor was it likely to have garnered him any new fans, he probably lost a few, but I left the gig invigorated after a blazing 70-minute set of angry guitar fuelled rock and a breathtaking five minutes of 'I see Monsters'. Having seen the over-rated Irish band JJ72 play for a mere 45 minutes in the same venue a few years back, wreck the stage and walk off to rapturous applause I didn't feel as let down by the whole experience as some seemed to be. I would love to have heard some of his older songs but I think his latest album 'Rock N Roll' is an accomplished piece of work, as are his two recently released EPs of heartbreak ballads and I was glad of the chance to hear some of the songs from them played live.

He's said himself he's never going to be the next Bob Dylan, nor does he want to be, and that's just fine with me. Anyone expecting that should have gone to see the man himself.

Check out the CLUAS reviews of Ryan Adams' albums 'Heartbreaker', 'Gold' and 'Demolition'.


Not to mention the CLUAS review of Ryan Adams' live in Dublin in 2001.