Republic Of Loose
Review of their gig in The Village, Dublin, 28 August 2004
Finally a band that live up to the hype. Whispers have circulated around the Dublin music scene for over a year now about this gritty band that play funky americanised tunes. Those whispers turned into full-blown conversations as the Republic Of Loose started to stamp their authority. Their debut album 'This Is The Tomb Of The Juice' has received rave reviews and is currently enjoying a lot of radio play all around the country. But from playing Whelan's to the Temple Bar Music Centre to the Oxegen Festival, it is their live shows that have people crazed about them.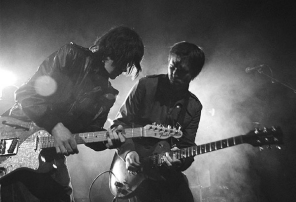 Breezing onto the stage to a packed house, even the band looked surprised to see so many people in front of them. The big crowd is further proof of the band's rising popularity. Attired in Mafioso type tracksuits with rough stubble, a shabby sort of coolness oozes from each of the band members. This is backed up by their close knit on-stage chemistry that helps produce a collective coolness not only from their music but also from their live personas. It is the music though that has everybody talking about them. Or in this case, dancing along with them. The funky sound had bodies swaying, feet tapping, arms raised and jaws hanging open in no time. Mick Pyro is such an exciting frontman. He delivers each song with this calmness that seems to just be in his stride. And he keeps at the crowd until the majority are fully enraptured in the songs.

Recent single 'Hold Up' imploded with excitement and an infectious bluesy tone. A scrumptious serving of 'Kiodin Man' had the crowd pleading for more. Pyro strutted across the stage, teasing the few who tried to rap along with him. Guitarist Bres - a talent within the collective force of the band - wowed the audience with his guitar playing. 'Girl I'm Gonna F**k You Up' and 'Tell More Lies' had shoulders manoeuvring with the beat while a cover of Rick James' 'Spacey Love' had all eyes centred on Pyro as he excelled with some gospel tinted vocals.

The venue was still buzzing long after the band had finished and the conversations started all over again. Everybody who attended this gig would be in agreement that the Republic Of Loose are currently masters of the live performance. And with an excellent debut album behind them, the future looks pretty good for them.

Gareth Maher

Check out the CLUAS review of Republic of Loose'sdebut album.


Photo credit: Carina Jirsch (www.soundisbeauty.com)