Roesy
A review of his gig in Whelan's, Dublin on 23 July 2003
Myself and Janey Mary dropped into Whelan's to catch Roesy live, purely on the strength of his inclusion on the 'Other Voices: Songs From A Room CD'. We were hoping for a good evening's entertainment and Roesy did not disappoint. One man with a guitar, accompanied by Josh Jackson on piano, kept the Whelans audience in the palm of his hand. He gave us songs from both his first album Sketch The Day, Paint The Night and his live album from this year, The Spirit Store. He was joined on stage at various intervals by mates from his home town of Birr, including Mundy - there must be something in the water down there.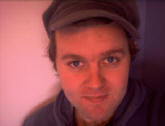 His performance left us gobsmacked, with some of the highlights for me being Hairpin, The Good Fight, I Wandered Out On A Star, Songs Are Forever and The Swaying Tree. He had the crowd singing along with What Would I Know which I assume a lot of the audience, like us, knew from the Other Voices CD. Interspersed with the music were tales of his travels, such as the story behind his song Minus 12 when he was miserable and freezing his arse off in Denmark. He gave us a perfect version of the Tom Waits song Take It With Me after another tale from the road. He prefaced a beautiful bi-lingual Smothered In Light with a story of translating this song into Spanish when he met a guy on his travels who had very little English. I was jealous of his fellow travellers as I pictured the scene: a crowd of backpackers in Bolivia around the campfire after a long trek, an Irish lad tells them he has a guitar and wants to give them a song, they expect an atrocious version of The Boxer and instead hear this amazing soaring voice singing some of these gems. A rousing version of Tom Waits' Old Shoes (And Picture Postcards) with all his buddies on stage got a fantastic reception from the crowd as the night came to an end.
I heard a few comparisons on the night, from David Gray to Damien Dempsey, from Bob Dylan to John Martyn. Don't bother trying to compare him, he's just Roesy. Catch him if you can.
Jennywhack

Check out a review ofRoesy live in Whelan's back in 1999.