Roesy
Review of his gig in Whelan's, Dublin, 21 October 21 1999
Though five people took the stage at Whelan's tonight, it soon became apparent that Roesy (aka Alan Roe) is actually a singer-songwriter backed by a band. How do we know this? Because he sings and writes songs about, well, singing and writing songs. In the stirring 'Neon Lights' he acknowledges this facet of his life: "I know one thing's for certain / This mouth of mine was made for a song".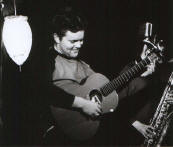 The solitary melancholy of 'Sober Clown' touches on a state of writer's apathy rather than writer's block -a phase where the "Poetry lies suspended in the air" but Roesy ignores it. With a jazzy tenor sax intro (courtesy of Misha, see also An Emotional Fish) and an understated but effective electric guitar solo, this song provided early proof tonight that his band knows the fine details of both dynamics and placement and utilises them to consistently enhance, rather than impinge, on Roesy's flow of lyrical accolades. Even the drummer could pound the toms like waves for 'Get to the Ocean' and then recede to minimalist tapping for 'What Will I Know' with its Nepalese Buddhist imagery. Like much of his repertoire, this song combines introspection with an uplifting search for contentment and was introduced with "I write songs for myself, to suss things out for myself. It's something that gets me through".
Some of his most vivid lyrical images stem from his childhood. He lavishly sprinkles excerpts of myths and rhymes amongst tales of his father feeding birds, memorialising a first love on a cloakroom wall, and the boy on the bus who deflated his belief in Santa Claus.
A highly appreciative audience hung on every word and his fan base should continue to grow as long as Roesy keeps grabbing those poems that could easily just pass him by.
Barbara Lindberg

Check out another review of Roesy live in Whelan's in 2003