Josh Ritter
Live in the Red Room, Limerick, 14 October 2003
Finally cleared of the remnants of the glitterati that had inhabited the area earlier in the evening, the ordinary punters were allowed in for the much-anticipated return of Josh Ritter to Limerick. Everything ran a little late because of the fashion extravaganza but luckily I managed to sneak in for Josh's sound check and can confirm he sounds just as good when there's no one watching. It provided a very appetising taster of what was to come.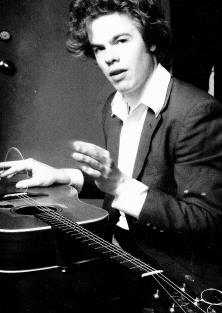 Sarah Harmer arrived to play support, and disappointingly didn't get a very good Limerick welcome. The crowd, who were pin-drop silent when Josh came on, just couldn't manage the same for Sarah. From Halifax, Nova Scotia, Sarah has a solid fan base in the UK and the US but I'm afraid in the Red Room it was one girl and her guitar against the room and she was defeated. Even the applause when she finished each song was lacklustre. An appeal for quiet, for a song sung low and soft, was ignored and the incessant chatter continued throughout her set. Her songs were mellow, with simple themes of rainy days and living in basement apartments, and all delivered with a sweet, strong voice. She played aJohnny Cash tribute, and tried to "shake things up" with her song 'New Enemy' before she left, but she never stood a chance.

This didn't bode well for Josh but amazingly when he came on there was a complete change of mood and the talking quickly dissipated. He arrived in his customary suit and sneakers and looked completely at home under the orange lights. Much is made of his similarity to Dylan and Leonard Cohen but on stage he makes these comparisons irrelevant. He's a unique performer and his genuine enjoyment on stage is unrivalled. 'Roll On' from his second album'Golden Age of Radio' got a good reaction from the crowd. Then 'Kathleen' filled the room, with the story of unrequited love evocatively told. The band's expert playing on this crowd-pleaser set the tone for the evening as they supported but never overpowered his singing. Every time the music died low there were shouts of appreciation from the crowd and very few moved to go to the bar, valuing their standing spots too much. And when they did they struggled to get back.

'Man Burning' from his latest album 'Hello Starling' really shook the place. A nice intro of 'One way or another' segued into 'Bright Smile', which was instantly recognised and played with a simple keyboard accompaniment. He didn't say much between the songs but at this point in true American style commented, "It's awesome, I love it here, it's great", and looked like he really meant it. Next was 'Wings' with just him and his guitar, there wasn't a sound in the room, except the bottles clinking at the bar, and the audience waited in reverential expectation until the very last note before applauding.

Josh also made mention of Arnold Schwarzenegger's recent election as Governor of California. He said he heard on the plane over here just as they were showing one of his movies. When he sang 'You don't make it easy babe' he dedicated the line, "I'm trying hard to love you - you don't make it easy Babe", to Arnie, which raised a few laughs.

'Me and Jiggs' saw him switch back to full band mode, with lots of foot stomping and clapping. 'Rainslicker' was played slow but with the band softly accompanying him and was followed by the rocking country beats of 'Harrisburg', which turned the already hot room into a melting pot. 'Bone of Song' saw the crowd stand in perfect silence with not even a whisper escaping from lips and while he sang his band, of Zack Hickman on bass, Sam Kassirer on keyboards and Darius Zelkha on drums, sat with heads bowed in respect. 'Bad Actress' started slow but built up with drums, vocals and cymbals added to the mix. Next was 'Golden Age of Radio (a Country Song)' dedicated to Johnny Cash.

'Come and Find me' was truly beautiful and the crowd sang the refrain along with Josh until it was just the audience singing and Josh providing the harmony to it. He finished with 'Snow is Gone' and the room joined in, clapping and cheering. The line "I'd rather be the one who loves / than to be loved and never even know" was never more apt and you could tell by the smile that never left his face all night, he loved it, just as much as we did.
Celine O'Malley