Richie Havens
Review of his gig in Whelan's, Dublin, 6 July 2005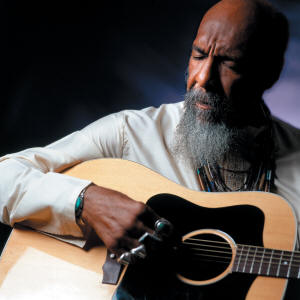 Review Snapshot:
To be honest coming into this gig I didn't know a lot, but what I knew I loved. My entire knowledge of Richie Havens consisted of his two memorable tracks at Woodstock, his first album, and his two recent collaborations with Groove Armada., hardly representative of a 28 year recording career. Well I need not have worried, this was spiritual and soulful in the way every religion yearns for but none attain.

Full review:
Richie Havens is in possession of one of the most powerfully beautiful voices ever to fill the ether. A girl I once met (who never called me back) once described the first time she heard his voice as "melting my insides." And for me, seeing him come on stage as the first performer on the Woodstock DVD was electric, one of those rare spine tingling moments, as he screams "clap your hands" in the middle of "Freedom" (a song he made up on the spot because he had nothing left to play) and upwards of 500,000 people get to their feet and groove. Absolutely amazing and this was on my couch midway through a cold winters day. But that was then, what is there now?

Any doubts I, or any others in the audience, could have had were calmed the moment Richie took to the stage, all smiles and child like excitement. That was one of the great things about this gig actually, when someone clearly loves what they are doing so much you can not but be affected, especially in a venue as intimate as Whelans was tonight.

The show kicked off with "All Along The Watchtower" a song which Dylan taught to Richie Havens, and which Havens in turn taught to Jimi Hendrix. As he said himself, "I learnt this song from a friend and played it for a few years and then taught it to another friend, and when I heard his version I just went aaaaah, I don't need to play this song anymore, now I can listen!" Though it might sound clich?, things just got better from there.

Some tracks such as "Just Like A Woman" were hauntingly beautiful, while others stirred up the energy, slowly drawing the crowd into the performance. There were many songs played tonight which I'm pretty sure no one had ever heard before, but Havens' obvious love and enthusiasm for the music was evident, and these tunes were devoid of any creative trough. One of the great moments was when the band left the stage and Richie gave a plaintive, soon to be prophetic, rendition of Bruce Murdoch's protest song "Lets Lay Down Your Drums" with its moving and relevant lyric, "songs like these shouldn't need to be sung."

Moments like this were what added the magic to tonight's gig, against the highly publicised backdrop of Live8 and the terrorist attacks which were only a few hours away, these were simple, intelligent and passionate protest songs, a tool which is very rarely heard today, yet so effective.

After this Richie and his guitarist Walter Parks were joined on stage by a cello player, who managed to get a funky fluid bass groove from such a staid instrument. The gig finished as we all hoped it would with an unbelievable rendition of "Freedom" which stands as one of my best and most unforgettable musical memories. The crowd were on their feet, hands clapping and singing along as Richie's stomping left foot took him out of his stool and into an emotionally charged strumming frenzy. As the song reached its orgasm, he whacked out that last chord, tossed his guitar aside, as, clearly overwhelmed and even close to tears, he fell back joining his hands and bowing in thanks. As the applause continued unabated and the energy grew he rushed to the front of the stage and leaped into a scissor kick. Amazing.

No one tonight could NOT have been moved by that performance? spiritual, soulful, sublime, we have been blessed.
Daragh Murray



Feel free to discuss this review on our Indie Music Discussion board.