The Red House Painters
Review of their gig in the Olympia Theatre, May 7th 2001
The stage was stripped down quickly, from Jim White's complicated set-up to the raw necessities for the Red House Painters. Soon, they ambled on stage, and with barely a nod to the audience or each other, rolled into 'Grace Cathedral Park'. The Red House Painters have been around forever. There is a balance in every sound and movement that can only result from knowing each other so well. They are perfectly open and perfectly restrained, and the equilibrium of both remained steady throughout the night. A fully seated audience, comprised mostly of long-term fans, reacted by shutting up at the right time, and opening up at the right time.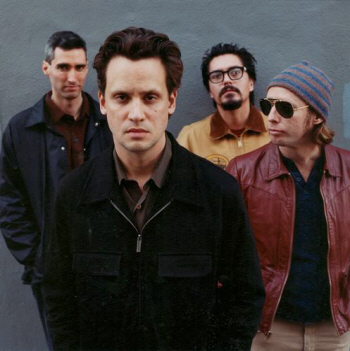 Front man Mark Kozelek thanked us all for coming and immediately began to apologize. 'This is pretty much our first show in three years. I'm really scared, I haven't slept in two days. I'm sure I sound like a crow.' He was pretty much the only one of the four to speak for the whole night, and as the Red House Painters go, he has unsurprisingly always been the focus of attention. Although his solo recordings ring with the same style of work as the band, there is a unity and inevitability here that no solo attempts have achieved. There is a feeling that the band is so complete that they don't even need to speak to each other anymore.
From the new album 'Old Ramon' they played 'Golden', a song written by Mark Kolzelek for John Denver. Kozelek was heavily involved with 'Take Me Home', a John Denver tribute CD, and as 'Golden' wound out, 'Fly Away' crept in. It wasn't the only cover to make an appearance. Raised in Middle America on a diet of Kiss and AC/DC, Kozelek has made tributes to both over the past ten years. AC/DC's 'If You Want Blood (You Got It)' was the first to show, and although this is probably my favourite AC/DC song, it was so far removed from the original that it took a second to register. Any song can be a Red House Painters song. They have a style that flexes to include everything, but has managed to remain rigidly recognizable.
The band had themselves completely at ease with the audience. The drummer wanted to know where they might meet girls (someone directed them to the George), and they seemed eager to keep their audience happy. A song began, but Kozelek called a halt quickly, complaining that Phil Carney's guitar wasn't loud enough. He explained that Carney is one of the best guitarists he knows, but won't turn up his guitar in case he makes a mistake. The crowd cheered until Carney complied, and the cajun stylings of 'Find Me Reuben Olivares' began again. The next song, and this time Anthony Kutsos, the drummer, was the problem. Kozelek rubbed his eyes and lamented that this song involves backing vocals. Kutsos grinned and Kozelek sighed, 'None of us are gonna get laid tonight'. Three-legged Cat played through, and the occasional vocals from behind the kit received a healthy balance of applause and laughter. Another AC/DC tribute, this time 'Rock N' Roll Singer', and suddenly it was half past ten. The slow build of 'New Jersey' carried itself through, and gave way to 'Have You Forgotten'. As the lullaby faded out, they gave a brief nod of appreciation and left the stage.
They returned quickly, this time with three guitars and no bass for one of Old Ramon's weaker songs, 'Wop-A-Din-Din'. Someone had been making a good effort with the lighting all night, but Kozelek asked for them just to be lowered, claiming 'It's the same boring band no matter how you slice it'. They thanked the audience (see you in the George later), and rolled quietly into 'Mistress', an old song that stood out sharply against 'Wop-A-Din-Din', and provided the trademark bitterness to end the show. There seems to be a constant lazy battle going on between despondency and optimism where the Red House Painters are concerned, and even in the make up of an encore they got the balance right.
Rhona

Check out a review of the Red House Painters album 'Old Ramon'