Radiohead (support from Beck)
Marlay Park, 24th August 2006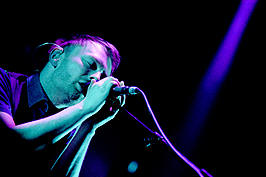 Review Snapshot:
I approached this gig with the open mind of a casual listener, looking to discover what celestial presence can arouse such fanaticism about Radiohead - a sort of crash conversion course if you will. Did it work? Alas no: It was a decent enough if somewhat uninspiring gig, leaving my respectful regard as lukewarm and terrestrial as ever, if not a little more confused.

The CLUAS Verdict? 6 out of 10

Full review:
With the release of Creep in 1994, Radiohead burst open not only the grunge scene of the day but also our perceptions of what can be done within rock music. Each of their albums has pushed the boundaries a little further, with early albums 'The Bends' and 'OK Computer' consistently popping up on most best album polls 10 years on from their release. Straddling the gamut from anthemic rock to electronic soundscaping to sparse piano, Radiohead have become one of, if not the most influential band of the last decade.

Marlay Park, though recently the site of excellent performances by Daft Punk and Morrissey, is still relatively a new concert venue. Perhaps this explains the poor sound quality, which muddied the sound all night. In contrast to this, it did produce a beautiful resonant bass that both the support and headline acts played off enough to make your tonsils vibrate. No doubt this was due more to the work of the band's crew. The onscreen visuals were astounding, with camera work and effects that belied the live setting and would be the makings of a great DVD.

Beck (who was the support act on the night) arrived on stage to the sounds of the now-classic Loser. With tongue set firmly in cheek, he presented an exceptional set, which was heavy of Guerro, featured newer material and had a live puppet show. The crowd was also treated to a short but extremely entertaining film of said mini-band-replicas exploring Dublin and trashing Radiohead's dressing room. Not to mention a bizarre guy dancing around the stage occasionally playing equally bizarre instruments, some bear suits and an entire song played on cutlery and crockery on a lunch table as served by the behatted Beck himself. This was all topped off with some really great music, leaving most of the crowd wishing he could play a little longer.

As for Radiohead's set?well it was a confusing concert of contradictions. For everything praiseworthy, there was equally something to criticize. Technically, their performance was flawless, with Thom's voice sounding as good as it ever has. However, disappointingly the gig featured only two new songs: Bangers And Mash, which can't be described as anything much greater than an oddity, and Videotape, a truly exceptional piano-based song with a rhythmic base that catches you off guard no matter how prepared you think you are.

Yet the main source of contention was the emphasis placed on older tracks. The lacklustre rendering of songs like Just, My Iron Lung, Paranoid Android and Karma Police cemented the thoughts of Radiohead not being the rock heavyweights the crowd were expecting but a largely complacent act with CD-like perfection that left the performance feeling a little empty. It was the musical equivalent of polystyrene. The now 12-year-old Creep did make an unexpected but much appreciated return as a final encore, along with a very substandard version of Everything in its Right Place.

In short: it was good?just not great.