Radiohead
Odyssey Arena, Belfast, Sept 14, 2001
Those critics - doubtless regarding their performance on a National Day of Mourning as somewhat befitting - who cited Radiohead's two albums in the last twelve months as evidence of their failure to fulfil the expectations generated by OK Computer received an emphatic response in Belfast's Odyssey Arena where the Oxford five-piece produced a defiant, celebratory set in front of a rapt, near-capacity crowd.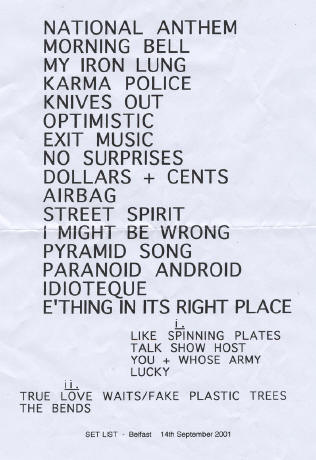 Apart from the once-off, homecoming special at Oxford's South Park in July, this constituted Radiohead's only UK or Irish gig of 2001 and the intensity with which they approached the opening National Anthem (tail-ended by Hunting Bears), Morning Bell/Amnesiac and My Iron Lung seemed to underline the uniqueness of the occasion.
The Smiths' tribute Knives Out and a rousing Karma Police sandwiched the interlude supplied by the chilling, peerless Exit Music (For A Film) with a competent Airbag and much more vibrant, guitar-heavy Dollars and Cents than the version featured on Amnesiac. Then Radiohead flirted uneasily with disaster.
Typically, about three-quarters of the way through the tumbling I Might Be Wrong Jonny Greenwood's guitar should greedily attempt to wrestle exclusive control of the top-heavy track. Not tonight. Almost from its outset, Greenwood has been struggling with a troublesome, reticent guitar cable so that, despite his best efforts, his guitar is practically inaudible at the crucial moment.
Instantly aware of the problem, Yorke stares at Greenwood before furiously flinging his tambourine to the floor. As Yorke berates the guitarist ("I can't hear it. I still can't hear it.") - almost like an indignant mother chastising a naughty child - who is frantically slashing his guitar to convince the frontman he is ready to continue, a glimpse of Yorke's notorious petulance which allegedly characterises much of the band's recording is crudely displayed.
Mercifully, a textbook I Might Be Wrong ensues and order is restored. The "crises" seems to have stiffened Radiohead's resolve to confound their detractors and paves the way for the note-perfect deliveries of Pyramid Song, No Surprises, Lucky and Optimistic. Acknowledging the tragic events of the last week, a pointed dedication of the haunting Street Spirit (Fade Out) to "Americans trying to get home" underscores the poignancy of the track's closing lines ("Immerse your soul in love").
Through clenched teeth Yorke discharges the fanatical ravings of Paranoid Android ("when I am king you will be first against the wall"), calculated restraint surrendering to clattering catharsis. Even this, however, struggles to compete with a stirring, limbs-flailing Idiotheque or the kaleidoscopic, soaring ("Everrry-thing, Everrry-thing..") Everything in its Right Place, culminating in the band's individual departure from the stage, led by Yorke.
An almost unrecognisable Like Spinning Plates inaugurates the encore before Yorke looks uncertainly at drummer Phil Selway for inspiration. It comes in the form of "a gun and a pack of sandwiches" - the seductive Talk Show Host from Baz Luhrmann's Romeo & Juliet remake, pursued by a caustic You and Whose Army?
Radiohead depart again but Yorke strolls back on stage armed with an acoustic guitar. An ecstatic audience dissolves into near awe-struck silence as Yorke sings the opening bars of the yearning, unreleased True Love Waits. Bono's assessment of the Radiohead frontman ("when he sings it breaks my heart) assumes a powerful resonance. He is rejoined by his colleagues for a rattling rendition of The Bends. An insatiable audience demands a third encore and Radiohead duly accede with the enchanting How to Disappear Completely.
The contrast between tonight's performance and the OK Computer promotional world tour cannot be overstated. If previous shows attracted criticism for displaying an element of "doing it by rote" (palpably illustrated by Meeting People is Easy tour documentary), the band onstage tonight radiate hard-won self-assurance, acceptance.
Brendan Daly