Prince
Review of his gig in the Point Depot, 11 October 2002
'Show her the little purple fella'
So read the cleverly read the giant advertisement outside the Point Depot last night. Prince was back in town to perform for the first time in seven years, and what a performance he gave us. A two-and-a-half-hour Concert was followed by a 70-minute after-show party. This was the gig of the year.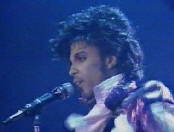 He arrived on stage just after 8:15pm and launched into the title track of his current album 'The Rainbow Children'. Indeed the opening half hour of the show consisted of recent material with the exception of 'Money don't matter 2nite'.
"Did u miss me?" he asked the audience. He went on to say that "It's been 7 years since we were here, or 7 hours, or 7 minutes, who cares about time". He followed with 'The Work', 'Mellow', and 'Extraordinary'.
He then proceeded to do an impression of the 'Ozzy Osbourne walk' before launching into '1+1+1=3', 'Speech' 'Strange Relationship' and 'Pass the Peas' He was determined to get the balcony audience on their feet and on numerous occasions he asked for the house lights to be turned so he could see who was funkin' and who wasn't.
His band consisted of a three-piece brass section, a constant thumping beat, and Prince's various guitar solos made this seven-piece outfit a pleasure to listen to, whether you knew the songs or not.
He did make a comment that "This is not 1984, this is 2002", which I think was his way of letting the audience know that tonight's show was not a greatest hits concert.
He commented on the quality of radio stations and the music they play. He reckons there should be more George Clinton, James Brown, and New Power Generation. "We have a new radio station for you tonight - WNPG" to which most of his funky tunes would have belonged.
He changed to a 'rock' station for ''When U Were Mine' and he brought the house to their feet when he kicked into a trio of classics 'Sign of the Times' ,'Take Me With U' and 'Raspberry Beret'. "We've got to teach real children, real music" he said while the backdrop displayed the names of most Irish daily and weekly newspapers. And I too am not sure what the significance of this was.
He reappeared after a short interlude, and sat at the piano for 'Adore', 'I Wanna Be Your Lover' and 'Condition Of The Heart'. We got a brief intro of 'Diamonds and Pearls', then 'The Beautiful Ones' and he finished with the classic 'Nothing Compares 2 U'. "Nothing compares 2 U Dublin" he shouted as he left the stage.
A minute later he reappears "We can't leave it like this" and he kicked into 'The Ladder'. During it he proceeded to speak about Salvation. He says something about not knowing God's name, and he recites the opening to the prayer 'Our Father'.
A verse of the excellent 'Starfish & Coffee' was followed by 'How Come U Don't Call Me Anymore', and for 'All The Critics Love U In Dublin' he invited about 30 fans up on stage to funk with him. One fan approached him after this and asked for a song. "I invite people up here, and one girl is looking for a request" he joked. She asked for 'Controversy' but he told her he'd sing 'Pop Life' and he did just that. He finished this time with 'Anna Stesia' but then came back again and played 'The Greatest Romance Ever Sold' and ' Rise Up'. This time it was over, but when it was announced that the After-Show Party was in Spirit (title of a Prince song, that he wrote for Martika some years back), we knew the night was still young.
The After-Show
We were treated to some male and female dancers, and plenty of fire, while we waited for the great man to appear on stage again. He did so shortly before 2:00am with a full band on a small stage.
He got going with 'Joy In Repetition' and during it he produced two bibles, "One hotel bible, and my own bible" he said. He went on to say that it was odd that there was different text in each of them and he got some audience member to read from one of them.
The music continued throughout with 'A Love Bizzare' and 'All The Critics Love U In New York', and 'Prince & The Band' and he returned for a slower than usual version of 'Dolphin', and 'Calhoun Square'. He ended the 70-minute set with an extended version of 'Peach'.
It was a privilege to be in the same room as Prince, and I even managed to shake hands with him. He really is a genius, and one hell of a Sexy Mother Funker.
Mick Lynch