'Primavera Sound' Festival 2007
Full review of 2007's 'Primavera Sound' Festival (Barcelona)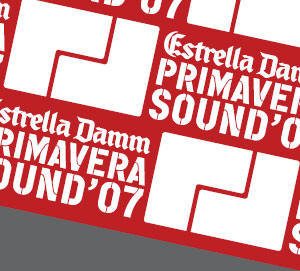 Given that it's now nigh on impossible to 'get festive' in Ireland for less than euro 200 a ticket, it would seem many music fans have their sights set on mainland Europe to provide their annual festival fix. The probability of clement weather, the competitive ticket prices and the foreign travel factor combine to create a near flawless argument in favour of packing up and shipping out for some open-air rock action.

Primavera Sound, which takes place annually over three days in a large events park by the sea on the outskirts of Barcelona, proved a big draw internationally this year. With a line up boasting aModest Mouse, Slint, Sonic Youth and a stage curated by ATP it's easy to see why.
Day 1...
Following ludicrous queues and badly organised ticketing procedures, a bee line was made for the Rockdelux stage which was reminiscent of a Greek amphitheatre overlooking the Mediterranean. As the moon came into view Slint took to the stage to perform their iconic 'Spiderland' album. The opening notes of 'Breadcrumb Trail' rang out drawing rapturous applause from the assembled crowd. It was as though these were a band of ragged sailors cast adrift on the open sea and as their set progressed we began to drift with them. Either that or the rum had kicked in! In a sterling set Nosferatu Man, Don Aman and Good Morning Captain were particularly epic. In addition to 'Spiderland' there were a number of treats which ranged from tracks off the 'Glenn/Rhoda' EP to a previously unreleased/new track which closed the set.

From here it was over to the Estrella Damm stage to indulge in some nostalgia with Smashing Pumpkins. Dressed like a cross between a bride and a traffic cone, Billy Corgan appeared genuinely overjoyed to be back onstage performing pumpkin classics as well as introducing new material to expectant fans. Classics such as Tonight Tonight, Disarm, 1979 and Today were triumphant, however, tracks from new release Zeitgeist failed to enthral and left many visibly disinterested.

En route to Fujiya and Miyagi we encountered The White Stripes. Having never fully understood the near disciple-like devotion of their fans as well as having been on the receiving end of many dictates decreeing that no worm could remain unturned in the face of their live show, we awaited their performance with expectation. This was easily the most anti climactic moment of the festival. With a set which was downbeat and indifferent with little or no acknowledgement of a phenomenally large crowd, we were left feeling cold and bored. Thankfully Justice reinvigorated the masses with some synth antics that can only be described as 'stonking', the crowd responded by engaging in forty odd minutes of intense dancing/limb flailing under the cement pillars of the CD Drome stage. Most of the acts performing at the festival were sampled during this immensely enjoyable set which culminated in a euphoric rendition of 'We are your Friends'. Next to the stage was Girl Talk who successfully built on the atmosphere generated by Justice and embarked on some blinding mixing, however, clearly all danced-out, numbers dwindled steadily as the set progressed and the sun threatened to rise.
Day 2 of Primavera Sound 2007...
The following day The Fall were first on the list of must sees. Although 'consummate professional' and 'Mark E. Smith' tend not to be terms that go hand in hand, this was a polished Fall performance which saw the crowd hang on every mumbled word. Covering material from all corners of their infamously vast back catalogue, theirs was a set which not only pleased the die-hards but must have converted some young-uns to boot. From here it was off to take residence at the ATP stage for the evening.

The most secluded of all the stages and as such the only one not to suffer sound bleeds, ATP was tucked away at the end of a winding path and provided several festival highlights. Band of Horses were beset by technical difficulties yet somehow managed to retain their affable demeanour treating the sizeable crowd, who had gathered in advance of Modest Mouse, to some 'tracks-in-progress' as well as most of their critically acclaimed debut 'Everything All the Time' of which 'The First Song', 'The Funeral' and 'Part One' were particularly impressive.

Modest Mouse with new memberJohnny Marr in tow, were amongst the most eagerly anticipated acts of the festival and perhaps they were destined to crumble beneath the weight of such expectation. Although there were moments of genius within their performance, overall they didn't deliver in the manner one would have imagined they were going to. This was mostly down to a poorly constructed set list which failed to harness the expectant energy of the crowd. Still it would be unfair to give the impression that this was a dull or non-eventful set, 'Ocean Breathes Salty', 'Dashboard' and 'Dance Hall' in particular were high points as was witnessing Johnny Marr's return to active duty.

The haunting, at times sinister, but always beguiling sounds ofLow followed. 'Murderer' from most recent release'Drums and Guns' commanded silence and with a setlist featuring tracks of such mettle as 'Pissing', 'Silver Rider' and 'July',Alan Sparhawk and Mimi Parker managed to transcend the difficulties and challenges of presenting their very intimate, understated style of music at an open-air event. In short, they rocked.

With fading energy levels and a come-down expertly cultivated by Low, it was perhaps ludicrous to expect that Hot Chip on the Rockdelux stage could reinvigorate us. However, on occasion it pays to carry on regardless. This, however, was not such an occasion. This motley crew of London lads were somewhat calamitous. Their sound was muddied, their set seemed to be determined at random and their one, sure-fire, potentially redemptive hope, namely Over and Over, was a mess. The audience even ceased dancing half way through! Now that we were well and truly behind, we decided to quit and head for bed.
Day 3 of Primavera Sound 2007...
Our final day of the festival began with a poppy, upbeat set from the Long Blondes on the main stage. Hardly music that's going to change a life, it was perfect for dancing, drinking and bidding salutation to the impending dusk. Architecture in Helsinki, on the Rockdelux stage, suffered badly with sound bleeds from surrounding stages and try as they might they failed to connect, although favourites such as 'It's 5' were met with cheers and bouncing. A polar opposite response was the order of the day over on the main stage for Patti Smith where the audience seemed suitably reverential when confronted with this 'punk rock poet laureate'. Her set was missing gems like 'Land' and seemed to comprised of one too many covers including 'Gloria' and 'Smells Like Teen Spirit'. Interesting? Maybe. Memorable? Eh. No.

Next up were Sonic Youth performing 'Daydream Nation'. The excitement and sense of occasion surrounding this performance was a major factor it's success, however the fact remains that it would have been infinitely more effective and affecting had Thurston Moore and friends treated us to 'Goo' or 'Dirty' in their entirety perhaps. Still many of those in the audience had memories from their adolescence wrapped up in the songs of 'Daydream Nation' and so it was quite something to see the near religious intensity with which they were received.

Battles at the ATP stage were next on the agenda however they were nowhere to be seen. In truth this was a trait of Primavera Sound 2007 which threatened to ruin the entire festival. Scheduling bungles were rife on a daily basis. On day one both The Dirty Three and Smashing Pumpkins were brought forward by an hour, however this wasn't communicated via announcement, signage or hard copy timetables onsite. The knock-on effects of such scheduling changes were huge and meant that individual itineraries which were planned with precision by punters were rendered ineffectual. In this case, following an hour of waiting, an announcement was finally made that Battles would be appearing at the Rockdelux stage at 4am and with that Grizzly Bear took to the stage thirty minutes earlier than billed! Impressively they managed to placate a sufficiently irked audience and without doubt won themselves a gaggle of fans in the process. Their sweet melodies, layered harmonies and tales of love and loss warmed hearts whilst softly demolishing any last reserves of energy.

Limping towards Wilco at the Estrella Damm stage it became apparent that this would be the last act of the festival for us. Perhaps it was exhaustion on the part of the punters or the 02.30 slot on the last night but Wilco just never took off despite threatening too for much of their performance. Songs from'Sky Blue Sky' sat comfortably alongsideolder favourites but in truth this was an unremarkable end to what had been three days of intense gig-going!
Conclusion?
In many ways Primavera Sound falls between two stools. On the one hand it wants to be a fun festival, but the absence of camping means that there's little or no opportunity for a sense of community to develop which leads to an absence of any kind of tangible atmosphere and the surrounding cement does little to cultivate one! Perhaps then this is a festival with its focus clearly on the music. Wonderful. Except that sound bleeds from stage to stage, technical problems at the smaller stages are common and bands are moved around the schedule without informing the masses!
The key to appreciating Primavera Sound is getting the expectation right. Go to Barcelona to gorge yourself on Gaudi, down Cava with the locals and cram in some great bands over the last weekend of Spring and you won't be disappointed. However, relocating in the hopes of finding a perfectly packaged alternative to the likes of theElectric Picnic or Roskilde and you'll most likely give Primavera a shrug of the shoulders as opposed to a thumps up.
Jan Ni Fhlanagain