PJ Harvey
Review of her gig in the Olympia Theatre, Dublin, 1 September 2004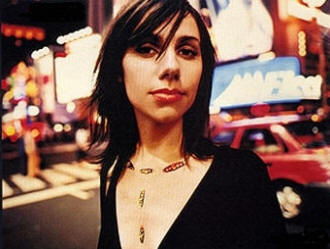 Review Snapshot:
Of course we all know that PJ Harvey is so cool it hurts. She's more talented than Courtney, Lavigne and Joss Stone combined. She's relentlessly uncompromising and has broken the mould for the way women are perceived within the male dominated rock fraternity. Nick Cave, Vincent Gallo, Josh Homme, they all go weak at the knees at the mere mention of her name. Although this reviewer has been been a fan for over a decade, this was the first time I've seen her live. Why, then, was it so damn disappointing?

The CLUAS Verdict?
6 out of 10

Full review:
On a bare stage under cold, perfunctory lighting she slips out from behind the curtain, her name emblazoned all over her short, summer dress. If you're clever enough, and PJ Harvey certainly is, you can get away with this kind of barefaced narcissism. Polly Jean Harvey has always manipulated her image, an image that has puzzled and enthralled in equal measure ever since she arrived over a decade ago.
From the glum, monochrome girl of 'Rid Of Me' to the garish, scarily thin woman that appeared on the cover of 'To Bring You My Love', PJ Harvey has always enjoyed toying with our expectations of the female representation. The music on her early albums 'Dry' and 'Rid Of Me' was stark and brutal, the sound of a young woman's anger at society's relentless drive for conformity, especially for women. After the urbane city girl of 'Stories Of The City, Stories Of The Sea' emerged a few years ago, it seemed PJ had reached some sort of harmony with herself, a kind a long-wished-for solace in the new person she had become. She never looked or sounded better.
Yet, with 'Uh Huh Her' a harsh, uncompromising set of songs, she's taken a step back, like reopening old wounds that have long since been healed. One gets the impression that, having run out of ideas, she's returned to the PJ Harvey of yore: agitated, relentlessly wary of the world around her, unforgiving of every man that did her wrong, simply to stoke the fires of her creative muse.

Maybe it's because of this that tonight is so vaguely underwhelming. Much of the set-list is lifted from the samey 'Uh Huh Her' album, resulting in large tracts of it going by in a turgid, guitar-drenched blur thanks to her punkish backing band. When she launches into 'Who The Fuck?' she flails around the stage, staggering back and forward, almost devouring the microphone at one point. Ditto for 'Cat On The Wall', 'The Life and Death Of Mr Badmouth' and 'The Letter'. It's certainly compelling but there's a lack of subtlety, like being sonically battered around the head when what you really came here for was for something a little more emotionally textured.

And yet for all that, it's still impossible to keep your eyes off Polly Jean herself. Healthier and sexier in the flesh than in the chilly, usually semi-naked image we are used to seeing, there is little doubt that she is simply going through the motions tonight. There's that booming voice, spreading out across the equally male/female crowd like a sine wave, reaching every little nook and cranny in the Olympia. In quieter moments towards the end, the PJ Harvey I hoped to see emerges momentarily on 'A Perfect Day Elise', 'The Darker Days of Me & Him' (a track which indicates what 'Uh Huh Her' could really have been) and show-closer, the gorgeous 'Is This Desire'. Yet it feels like too little too late. Whether tonight was simply an off night or simply my own inability to come to terms with her new 'direction', PJ Harvey still remains one of the most important female songwriters of this, or any other, generation.

It's that manipulation thing again, a constant desire to change and evolve, to perplex us in order to remain relevant. Sometimes, it's just hard to keep up with her.

Ken Fallon

Feel free to discuss this review on our Indie Music Discussion board.