Pernice Brothers & The Handsome Family
Temple Bar Music Centre, 13.5.99
To paraphrase a member of one of the local boy bands, there's been a lot of talk about this next movement, but maybe not enough talk. The movement has been given the moniker 'alternative country'. Emerging from the US, it is home to acts such as Wilco and Bonnie Prince Billy whose music moves your heart first and your feet second. They embrace a musical territory that is a million miles from the sterile & manipulative corporate country of Messrs. Brooks, Twain and Cyrus, their muse instead cutting a powerful fusion of the spirit of true country and the spittle of rock'n'roll.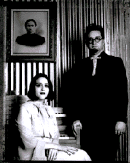 Two apostles of this musical creed - the Handsome Family and the Pernice Brothers - recently held the Temple Bar Music Center captive with a memorable night that stepped lightly from the (quasi-)ridiculous to the sublime, stopping off en-route for a few moments of blatant power-pop.
The Handsome Family opened the evening with an almost frivolous performance that perfectly opposed the gravity of the Pernice Brothers. Not necessarily the most remarkable musicians, husband and wife duo Brett and Rennie Sparks delivered a set of mixed quality songs, sung occasionally with thin melody and in questionable key. However, despite all this, the kooky dynamic of their performance succeeded in reviving the oft-forgotten fact that rock'n'roll can be very, very funny. Before the wrong end of the stick is picked up let it be clear nobody was laughing at them, this audience was unequivocally with them. They were a complete unadulterated hoot, bringing a captivating smile, and even the odd belly laugh, to all in attendance.
Dressed in a frumpy red dress the wonderful Mrs. Sparks played the cutesy, flicker-the-eyelids card to her husband's tongue-in-cheek 'Ah ain't takin' no whack off-a mah woman' gruff. The hilarious inter-song banter was equelled by the often wacky and sarcastic delivery of the songs, country affairs performed with an air of manic glee. In a way it is a pity as this style tended to distract often from the songs, some of which - my instinct suggests - were deserving of a more focused rendering.
This was a night of chalk and cheese and, if you excuse the allusion, it fell to the Pernice Brothers to provide the intoxicating Roquefort. Not that this was a cheesy performance - the conviction of 'Crestfallen' that kicked off the set made it clear to the uninitiated that this was an evening going somewhere special. Playing a big chunk of the their debut album 'Overcome by Happiness', they also debuted a lot of new material to be released soon on the follow-up. You now have to listen a little bit closer to hear the country origins of the band as they cut out a path towards earnest pop with solid, heartfelt melodies.
As the consistent quality of their repertoire unfolded, it became clear that this was a band for whom music was a potent life-force. Singer and songsmith, Joe Pernice, is blessed with one of those rare voices that manages to root you to the floor and tighten your lower lip in awe.
Although obviously sharing the same influences as Teenage Fanclub, the spirit of the Pernice Brothers is definitely one more serious than their northern England cousins. "Monkey suit" a perfect example. But it was not all gravity and intensity - some perfectly poised pop suggestive of Jellyfish's finer moments brought smiles to our faces.
Tonight, for some of us, myself included, it was a night of discovery. Walking out of the venue that evening I was washed with that same sense of wonder of when you stumble across an old, forgotten diary from your teenage years. It's a silly, illogical thing this rock'n'roll lark. And that's why I keep coming back, looking for more. And then some.