Paul Cleary & Friends
Review of his gig in Vicar Street, Dublin, March 22nd 2002
"If only the whole world could feel the power of harmony!", Mozart famously wished. Well, it can. All it has to do is go to the next Paul Cleary gig.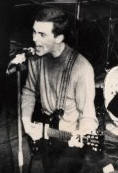 The continued marginalisation of this great talent is a classic Irish scandal on a par with all those shocking rezoning brown envelope shenanigans, the current Aquapark fracas, or any of our long litany of abuses of ministerial power. There should be an expensive tribunal about it, with thieving legal bloodsuckers patronising Charlie Bird on the news at nine, acres of brain-numbing front-page coverage on all the daily papers, and the whiny voices of self-serving political inadequates echoing through the Dail.
And then there's Bonio and his gang of opportunistic dullards, loudmouth nobodies who hijacked the energy of the Dublin band explosion of the late 70s which Paul Cleary personified, and rode it to synonymous prominence, becoming the biggest fish in a miniscule pond by default and moving easily from there to the international arena, at the expense of their infinitely more talented peers. There should be posters of Cleary's wise-but-youthful visage in the windows of every record shop and teenage bedroom in the country. Your friendly bus driver should be humming 'Liberty Hall' as he shortchanges you fifteen cent. The cretins who soundtrack TV ads songs should be throwing millions at Reekus Records for the rights to his tunes.
Why? Because the man is the greatest songwriting talent ever to come out of this country (and sorry Van Morrison, but yeah, I include you in that too). And what's more, he's still able to do those songs justice in concert. He proved this over two great hours in Vicar Street on March 22nd, 2002, looking neat and cool and calm and perfectly happy, standing proud with the reassembled members of his previous bands, The Blades and The Partisans, after more than a decade out of the music business. But this was no pathetic lurch into glories long-gone, the kind which we've become inured to in the last decade through the sad frenzy of reformation which made mockeries out of so many once-great outfits. For a start, the Blades never experienced a fraction of the glories they deserved. For a country which has seen its worst band become the biggest in the world, and where idiots still reminisce fondly about such second-rate pap as Something Happens and The Sawdoctors, The Blades have been ill-served by Irish music history (at least until the re-release in late 2000 of both their blistering, seminal albums).
Anyway, Cleary is promoting 'Crooked Town', a new solo album, not trading on his back catalogue. It just happens that he offered the gig to his old pals and they accepted. All of them. As anyone who loves music would have. Even the Blue Brass, his erstwhile Tamlaesque brass section, are present and correct. And it just happens that nobody has any stupid neurotic hangups about playing those great great tunes from The Blades' inspirational ouevre. So it was that we were treated to storming renditions of Downmarket, The Last Man In Europe, Ghost Of A Chance, Impossible, Pride; we grinned like kiddies through beautiful readings of Animation (solo), Some People Smile, and a progressively-more-powerful Boy One; we jived hopelessly through the soul and rock'n'roll standards that Cleary has always sprinkled his live sets with. And that's not counting the gold he mined from the solo album: everything except the closing, symphonic Ecstasy Blues.
Cleary has the same voice and the same stage presence he did when he was twenty. He steps forward to the microphone, tilts his head back and a clear, brave tremelo fills the room, singing of love and anguish and pride and politics and a million other things you can't understand just then, 'cos you're too damn excited by the sound. He sings entire songs in registers that Bonio couldn't reach if he were castrated, filled with helium, and set on fire. Dissatisfied even then, Cleary often shifts up a half-octave for the last verse. The wall of sound coming from his and Conor Brady's guitars could have been produced by Phil Spector. The scissor kicks he still jumps at song crescendos could be by a young Pete Townshend. The soaring soul of his voice against the band's arrangements could only be compared to Marvin or Otis (a fitting comparison, as the luxuriant version of My Girl proved).
There's a magical thrill in this classic pop music, written and sung by a man who knows and respects the genre's history, backed up by consummate musicians in front of a crowd of people who still have love in their hearts for harmony, melody, intelligent chord progressions, great big chunky life-affirming riffs and booming, shimmering bass. Looking around the crowded room you could see that thrill in the delighted delirium on the faces of everyone present, from the surprised media parasites who were only there to blag tickets to Jason Byrne, to the aging Ringsend soulboys stomping to the brass in the moshpit which developed at centre front, to the drunken idiot they efficiently and justifiably knocked over when he started shouting over the quiet bits of the music.
So far I've neglected to mention the impressive and unannounced support from Colm Quearney, well deserving of the attention he received. I'd like to say more, but I can't remember any after the tour de force performance from Cleary and pals. It was a tough gig, and respect is due to Mr Quearney for taking it on.
This was truly one of Irish music's proudest moments. Our greatest pop talent is back. This time, let's give him his due.
Hugh Tynan

Check out the CLUAS review of Paul Cleary's solo album 'Crooked Town'