NME presents The Coral, Black Rebel Motorcycle Club & others
The Ambassador, 26th January 2002
The music magazine NME is notorious for the 'build 'em up and bring 'em down' policy it seems to employ when it comes to championing new rock groups. Consequently, all the groups playing on the NME Carling Tour have gone through the usual hype machine. So what does the NME 'Brat Pack' have to offer?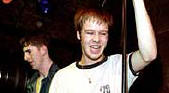 The crowd in the Ambassador saw a mixture of the good, the great and the laughingly poor. First to take the stage were The Coral, a collective of six rowdy Liverpudlians.
The Coral peddle a ramshackle brand of pop music that went down well with the full house crowd. 'Badman', The Coral's second song started the moshing that was to go on all night.
Things took a darker turn with the arrival of Los Angeles three-piece, Black Rebel Motorcycle Club. Although BRMC hail from the sun-drenched West Coast, they sound more like the best of British psychedelic music.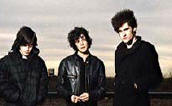 Clearly influenced by My Bloody Valentine and Joy Division, BRMC have a dark, wall-of-noise sound. Dressed in black, their use of lighting ensured that the crowd could barely make out their faces. Another connection to the British psychedelic movement was their replacement drummer, Pete Salisbury, formerly of The Verve.
BRMC have just released their self-titled debut LP and every song was taken from this. Unfortunately, the brilliant single 'Love Burns' doesn't quite make it when played live. Without studio technology, BRMC found it difficult at times to produce the wall of sound with only three musicians.
However, on songs like White Palms and Whatever Happened To My Rock 'N' Roll, BRMC confirmed that they are already one of the bands of 2002.

The majority of the crowd had come to see the Welsh metallers, lostprophets, who were next onstage. Lostprophets were definitely the most energetic and frantic of the bands to play. They are also amongst a select few playing nu-metal (rock's most recent buzzword) that can write decent tunes as well as make an unholy racket.
It was straightforward stuff: loud guitars, pounding drums, the customary DJ, lots of baggy trousers with boxer shorts showing. Unique they are not but lostprophets are certainly a thrilling live experience. The attraction began to wear off towards the end of the set, however, and it remains to be seen whether or not lostprophets, and nu-metal itself, will last the distance.
Between The Coral, Black Rebel Motorcycle Club and lostprophets, the NME hype hadn't been entirely unreasonable. But one wonders exactly what the NME editor was thinking when Andrew WK was declared 'the saviour of rock 'n' roll'.
Quite simply, Florida-native Andrew WK is so bad that one wonders is this just some media studies experiment, questioning if people will respond to hysterical hype hysterically.
Andrew WK falls into the 'laughingly poor' category. This really is rock music at its worst; the kind that can be found on Channel 4 'Remember the '80s' documentaries.

It's said that music always comes full circle and types of music will continue to fall in and out of popularity. When bands like The Scorpions and Motley Crue stopped selling records, i.e. when grunge arrived, fans of decent rock music hoped that they and their ilk would never return in any incarnation. Alas, here is their bastard son, Andrew WK.
When his single 'Party Hard' and the album 'I Get Wet' failed to impress anyone this side of the Atlantic, NME should have realised that this kind of music isn't listened to anymore for a reason: it's rubbish. Didn't this chap see 'This Is Spinal Tap'? That was a spoof and Spinal Tap are an hilarious band but Andrew WK has taken them as an influence.
"This is our time" he screamed to the Ambassador crowd. The return of terrible songs, big hair and leather pants? Let's hope not.

Donal Griffin

Check out the CLUAS review of the Black Rebel Motorcycle Club album