Nick Cave
Gaiety, Dublin, 28 March 1999
Normally home to bouncing Christmas pantos and sweaty Mambo clubbers, the Gaiety Theatre last Sunday, for once, found its brow truly furrowed as it played host to a compelling evening of intense music and (wait for it) thought-provoking lecture. The captor of the audience was a seedless Nick Cave with support in the form of Dirty 3 and, in a gesture counter-balancing any antipodian bias, Sean? singer Larla O'Lionard.
The firm and enchanting voice of Mr O'Lionard set the tone for the evening. With his designer suit and well-conditioned hair he shed any preconceptions of Sean-nos singers being champions of hand-knit Aran sweaters and greasy, unkempt beards.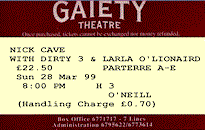 Dirty 3, on the other hand, chose instruments over voice to articulate a whole gauntlet of powerful emotions. The simple arrangement of drum kit, guitar and violin conjured a music of devastating power and emotional complexity. A blaze of rhythm and contrast, they one moment appear to deconstruct the violin as Sonic Youth did the guitar, before gently pacing down into post-modern jazz rhythms suggestive of Talk Talk's later material. Even with their back turned often to the audience their performance smacked of physicality and the pain of utter conviction.
When Cave appeared on the stage it was behind a wooden podium from where he, to the surprise of many, launched into a lecture entitled "The Secret Life of the Love Song". Erudite, intense and revealing, Nick dissected the evolution of some of his songs with reference to Saudade - the yearnful longing of the human soul - and Duende - the strange power he that, he contends, is the unacknowledged muse of the songs of Tom Waits, Dylan, Neil Young and Van Morrison.
The discourse was punctuated with trips to the piano to play some of his own songs that he feels may have sprung from such fonts of spiritual inspiration. 'West Country Girl', 'Far from me' & 'People ain't no good' may forever more resonate differently with the new angles of light and shade of their evolution that where shared during this part of the evening. It wasn't all old material - a haunting and achingly beautiful new song called 'Love letters' was debuted too in this refreshing context.
After the 45 minute 'lecture' he started the remainder of the set with a much stripped down but none the less powerful "Mercy Seat". From the rest of the mesmerising set "Into my arms" and a venomous "Henry Lee" stood out. The night finished on a light note with a sardonic song allegedly about one of Shane McGowan's girlfriends.
Nick's final gesture to the audience? A sarcastic 2 finger salute to remind us that, in his songs, there is also a place for laughter and a tongue searching for the cheek.

Why not leave a message for visitors to the site on the CLUAS Discussion Board?