Mundy
Jean Monnet Theatre, Limerick, 1 October 2003
Mayday, mayday, do you read me?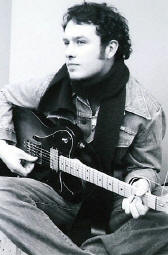 To some the thought of playing a room full of sober, seated students would instil fear, to others it is the perfect setting for a concert, with no disturbance from drunken heckling or crashing bottles. Prior to this evening's event I was sure Mundy would fall in the latter category, but he seemed, initially at least, a little intimidated by the silent crowd. Thankfully as the evening wore on, he became less nervous and the audience more responsive. By the end the room shook with a rocking 'Mexico' and a standing ovation.

The Jean Monnet Theatre, in the University of Limerick, normally the scene of scholarly lectures, converts well to a live music environment. The tiered theatre focuses all the attention on the brightly illuminated stage at the front and the sell-out gig saw people sitting on the steps, all eager to hear the man from Birr deliver his intense lyrical gems.

Mairead Nelligan played support and, though she's in the middle of recording at the moment, admitted none of her songs have names yet. Her third song with the line "All I needed were your words" really showcased her powerful voice and there was almost no need for a microphone. It's hard to describe her sound but she has an impressive voice range and an ability to hold a note and build it up until it fills the room. On the song "I've been around just like you said?when you're all alone, reminds me of someday" there was enough raw emotion in its delivery, that no explanation of the heartache that inspired it was needed. It was a great opportunity for an unknown singer to play to a packed house and she set the scene nicely.

Mundy strolled on stage at about 9, wearing a black T-shirt and jeans but minus his customary cowboy hat. He played songs from his two albums 'Jellylegs' and '24 Star Hotel' and a couple of new ones. His easy banter and cheeky grin won the audience over, as he provided snippets of his life story, the inspiration behind the songs. He started the set with a new song - 'Car Pound'. As always Mundy's distinctive voice and storytelling ability made an impact. The harsh reality of a kid, with a dad "out since Monday squandering all his pay" an absent mother and sharing whiskey and coca-cola in the car pound with his friend, was laid bare. Mundy's sound is very different but there is something of Tom Waits in the way he tells a story. Next up was 'Springtown' from his first album 'Jellylegs', another tale to tell, written at a juncture in his life when he wanted to escape and run away. There were a few smiles at the lines "and do you remember when / we compared our manhoods at the scout dance / after we got kicked out of the cub's" - obviously bringing back memories for some of the students at the gig.

On 'Rainbow' he wanted the audience to sing along but there wasn't much of a response (though this reviewer embarrassingly knew all the words!). Sang under the bright yellow lights 'Drive' saw him produce a mouth organ, in an effort to make up for the lack of band, or so he said. Next up was 'Anchor the Sun' followed by 'Mayday' where he went off into a little world of crashing guitar solos and mixed up static from the distortion box at his feet.

'The Last time' written after his deal with Sony went sour, describes how he decided to carry on, rather than packing it all in. He urged everyone to go out and get what they want, with the line "it's all there for the grabs". 'Pardon me' was a song written for a barmaid that he fell in love with, who took him on a date but brought her boyfriend too, and he was quick to point out that he's not in love with her anymore, to the amusement of the crowd. Next up was a new song, '10,000 Miles Away from Harm' - "the morning's warm / the air it tickles / the sun is broody and my body's jaded". This catchy song brought to life the heat and humidity of summer, you could almost feel the whispering breeze. He also mentioned that he started recording his new album in Texas in June and if this song is anything to go by it promises great things.

Naturally the crowd-pleaser 'July' featured and the audience really got behind him, singing the chorus with gusto. He finished with 'Gin and Tonic Sky' to loud cheers from the crowd calling for his return. He came back out and did a Burt Bacharach song "This Guy's In Love With You" which had the whole theatre clicking its fingers in time to the music. And it was a much more relaxed Mundy who finished his set with 'To you I bestow' which he thundered through, and finally the feel-good 'Mexico' which left the audience on their feet.

Mundy's Irish heritage is blatant; it's a love of storytelling and a candour and sincerity in the stories that he tells. He has the ability to transport you to the world as described in his songs, whether it's Mexico, the smell of freshly cut grass in July or the hot footpath under your feet 10,000 miles away from home.
Celine O'Malley