Mogwai
Red Box, Dublin, April 17 2001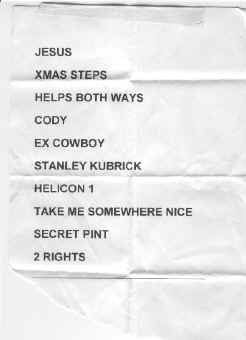 Having earlier in their career laid down a political agenda, the changing of venue, from the Guinness Storehouse to The Redbox, because Mogwai have refused to pass the Guinness workers picket line, is inevitable.
With frontman, Stuart Braithwaite, already heralding forthcoming long player "Rock Action" as "more 'Pet Sounds' than 'Psychocandy'", the level of expectancy upon the band to produce something new AND as high quality as 1999's poll topper "Come On Die Young" is absolutely enormous. The dawn of the new age of Mogwai is to be released only a few days from this visit.
Tonight will not be a showcase for this change however. Instead proceedings are to be dominated largely by back catalogue. "Halycon 2", "Stanley Kubrick" and "Christmas Steps" grace the early set as Dublin's baited breath awaits the promised zenith of change. It never arrives.
Strangely, it must be conceded that the highlight of the show is when Stuart takes vocal duty on "CODY" and on the most promising new track "Take Me Somewhere Nice" laden with live beautiful string section.
The encore 'My Father My King' is simply a plethora of white noise. Simplified and textured guitar riffs turns into controlled feedback and the bass following suit. Soon the control turns to absolute mayhem. Frequencies swirling around the venue hit each member of the audience full on in the chest.
The band is quality. The music is quality. Recent press releases brought forth promises of a string section and a new sound. Tonight has not thrown an epiphany. This aesthetic path has been trod upon in the same city before. May we beg the question, if it is new and it is quality why not show it, instead of hiding behind history?
Colm Downes

Set list provided by Charlie Blacque.


Check out an alternative review of the same Mogwai gig