Machine Gun Fellatio
Metro, Sydney, Australia, 26 March 2003
Enter the weird and wonderful world of Machine Gun Fellatio. With a name sounding more like a late night X-rated movie, this strange and bizarre collective were well able to deliver the goods on stage. Formed in or around 1997 they have been promoted over the years by Australian 'alternative' radio station Triple J. Their two recent hits on down under - "Pussy Town" and "Rollercoaster" from their latest album 'Paging Mr. Strike' - both made it into the Top Ten of Triple J's hottest 100 songs of 2002. They have a dedicated following in Sydney who tonight came out in force to see them. Courting controversy a couple of years back when they were banned from Swinburne University because of nudity during their performance, I have to say I was both scared and excited about the prospect of seeing them live.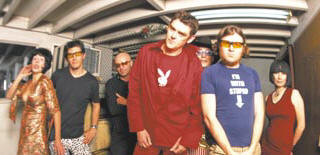 They played the Metro Theatre, a great venue with superb acoustics and were supported by Toy Death, who we missed and Sydney band Gerling. Gerling are an eclectic, 70s disco and house band made up of three performers. They played their big hit "Dust me Selecta", which got a great reaction from the crowd and finished up their set with their new single "whos ya daddy" and were interesting enough for me to want to check out their last album.
The motley crew of performers that make up MGF took to the stage in a variety of costumes, the female singers wore PVC and The Love Shark, on bass guitar, wore a cape à la Ming the Merciless and had aluminous glow-in-the-dark spray paint in his hair. There were various costume changes during the night and the highlight for many fans was KK Juggy appearing wearing only fishnet tights, a g-string and flashing Christmas Lights to sing unaccompanied, "Dirty F***ing Whore", which is from their last album. They have a wry sense of humour bordering on the extreme and the lyrics of their songs are definitely tongue-in-cheek. Their big radio hit "Rollercoaster" featuring the lyrics "you're like a rollercoaster / toast ya in a big four-poster bed" and "My ex-girlfriend's boyfriend" a parody of the boy band mentality. They also included the old favourite "Mutha Fukka on a Motorcycle", performed by KK Juggy, actions and all. With band members names ranging from Bryan Ferrysexual, Chit Chat von Loopin Stab, KK Juggy and Pinky Beecroft to name but a few they certainly don't seek to be taken too seriously.
However despite the slapstick comedy routine and all the onstage antics, which included pyrotechnics and exploding fireworks, they are professional and provide total entertainment. There is a disco feel to the music and I defy anyone to stand still while listening to it. We moved up nearer to the front for the second half and had a bird's eye view of one enthusiastic, topless, female fan that climbed on stage and showed great interest in the female singers, much to their horror! Alternating between big beats and slower numbers there was something for everyone.
Machine Gun Fellatio are a band just outside the realm of normality but that doesn't mean they are not talented performers. Quite the opposite in fact, every song was perfectly delivered without it ever feeling like they were playing the audience. I would love to see them get a gig at one of the summer festivals in Ireland.
Celine O'Malley

Feel free to discuss this review on the CLUAS Discussion Board.