Melaton
Temple Bar Music Centre, Dublin, April 4th 2002
A set list that glided seamlessly back and forth between a variety of styles - crescendos of acoustic intensity culminating in powerful climaxes, tapering off into slow sweet melodies - was served up by Melaton in the TBMC to a crowd that remained hungry for more. Even after second helpings.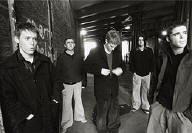 The fact that one of the group's most popular songs - Peripherique - appeared early on in the set and was not relied on as a token encore number, shows that the band could depend on less well-known tracks to carry then through what was, a rather excellent performance. Peripherique has received much airplay and recognition lately and notched up a hefty tally of votes from Today FM listeners the week the band featured as Witnness Rising artists on Pet Sounds.
As live performers, Melaton successfully weave a rich tapestry of aural delights from a diverse source of genres and influences. Led by modest frontman / multi-instrumentalist Luke Slott, the band adopted a low-key approach to the night and chose not to indulge in clich? audience banter or stage antics, preferring to let superbly crafted tunes do the talking.
The set list featured some gems from the new Falling Star EP such as the title song, the already popular Peripherique and Two Legs. The new mixed with the old and the unexpected proved to be a recipe for success on the night. Last year's Moonstorm went down particularly well. But one of the special moments of the night occurred when the band were joined by renowned jazz flutist Brian Dunning for two tracks that alone were testament to the range and talent of Melaton - the exotic El Canton Tono and the atmospheric Northern Lights.
For a group that comprise 80 per cent of what was formerly a Hendrix/Radiohead covers band they certainly display the passion of the former and the intensity of the latter.
Roisin Dwyer