Mark Geary (with support from Ann Scott)
Whelan's, Dublin, 23 April 2004
As always with a Mark Geary show you are treated to something extra special, extra wonderful and extra personal. But never should it get so emotional as it did at the Whelan's show. Whelan's on a Friday night is the last place you would think of a crowd with teary eyes. The reason for all this was the tragic death of Mark's nephew, Paul McDermott, just twenty-four hours before the gig. His website pleaded with the crowd 'to be extra gentle'.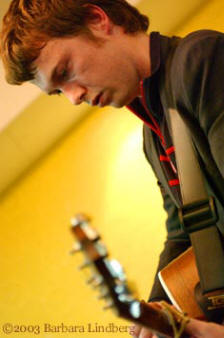 The evening began with the ever-impressive Ann Scott filling the support slot. Her angelic voice and well-crafted songs brought her to the attention of the crowd. Songs such as 'Whistle Tom', 'To Adore' and 'Madness' reveal the raw talent that she possesses. There are few who stand out considerably from the singer/songwriter circuit but Ann Scott does almost with a halo upon her head. She proved to be an excellent opening act.

And so came the main act with guitar in hand and a frown of seriousness. He breaks into 'Gingerman' but looks very distraught. With the look of a man on the verge of breaking, the crowd are almost stunned into silence. Then it's the audience's participation on 'America' that finally breaks the ice. The handkerchiefs could now be put away. For the show shifted up a gear. Each song that followed was delivered with a passion that is familiar with every live Geary performance. 'Suzanne' was bursting with rawness, 'Obi's Chair' had a perfect blend of Geary and Scott on vocals while 'Sombrero' reached delightful heights through its melody.

The real standout track of the evening was 'You're the Only Girl'. It will be no great surprise if this will be the first single as it's radio-friendly, catchy, upbeat and just a great tune. At this stage of the evening, Geary has become a God with the audience preying on his every word. The last song of his set is 'Hold Tight', which swiftly moves like a poetic ballad. The singer/songwriter then jumped into the crowd to engage with the audience as they repeatedly sang the chorus with such grace.

Again, Geary didn't disappoint and gave the audience a show to remember.

Gareth Maher

Feel free to discuss this review on our Indie Music Discussion board.