Marilyn Manson
Rock Am Ring Festival, Germany, 8 June 2003
I was never more than a curiosity fan when it came to Marilyn Manson. Never a fan, but impressed at the constant news-ability of what sounded like a fairly mediocre singer. Now I understand. Marilyn Manson is a heck of a showman. Seven in the evening at a sold-out Rock Am Ring and the bleached blonde hair and shock-red lipstick has arrived backstage. But there's nothing happening until the crowd is readied. Hitchcockian theme music mixed with clouds of dry ice in the evening sunlight create the feeling that's maybe right for the master of weirdness and only when the masses swelling in front of the stage are silenced into a sense of awe and foreboding does Mr Manson take the stage.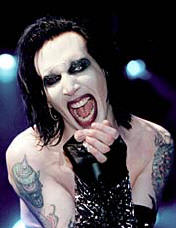 It's a slow, atmospheric start, the band winding out to the intro, horror-film classical music still playing as Manson, his band and two whorish looking tour dancers feed the frenzy. No other act was so anticipated all day, giving a hint as to the power and payback of Manson's faux-psycho manipulations. 'This Is The New Shit' starts the show proper, followed by 'Disposable Teens', 'Irresponsable Hate Anthem' and 'Use Your Fist And Not Your Mouth', a trio of titles still shocking no end of impressionable parents.
We get a mid-show climax with 'mOBSCENE', a new song that manages to be melodic and angry, blazing into a hot, blazing mainstream rocker, sauced up nicely by backing vocals from the two dancers / actors / singers on the stage. 'Tainted Love' and 'Para-Noir' show Manson shining at his theatrical best, allowing his pair of leggy dancers to gyrate and role play through all types of lurid and suggestive storylines. Marilyn all the while interacts with them and plays off the sleazy sexuality, absorbing it into his delivery. There's charisma in this crazy looking creature, for sure.
A big, over-blown pulpit gets rolled out for the final songs, Manson pumping his fist forward as he bawls and screams out a sermon of 'Dopeshow' and 'The Golden Age Of Grotesque', title track of his new album. 'Sweet Dreams' and 'Fight Song' are good follow ups but the show closes in style with a raucous, all-out 'Beautiful People'.
I was never a fan perhaps but tonight I'm taken by a showman who knows how to put on a show.