Manic Street Preachers (& JJ72)
Smithfield, May 4th 2001
August 1999, Slane Castle on the banks of the Boyne. The late, great Uaneen Fitzsimons, MC for the day, walks on stage to introduce the next act:- "Ladies and gentlemen, this is the band that I came to see today...please welcome the Manic Street Preachers!" Three quarters of an hour later the only question on my mind was...WHY? What I saw was stale and stagnant, bordering on a distinct disrespect for their army of admirers who had forked out heavily for a slice of what their idols had to offer. Not impressed!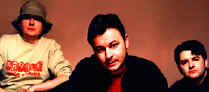 Pure rock, power-pop or whatever you'd like to call it these guys have never had a problem coming up with a decent ditty. And having regularly been touted as a live act to be reckoned with, now was the time to see if I'd been a tad hasty some twenty-one months previous. Armed with a recent flurry of publicity, albeit politically inspired, along with the rediscovery of their serious side and a legion of devoted fans, who better to test the limitations of the capital's newest urban amphitheatre.
The hammers and sickles were out in force (adorned by young and old alike) and while there certainly was an unlikely cross-section of society in attendance they were incredibly enthusiastic in its sparsity.
Within seconds of the 'Lost That Soul' kick-off they had already exceeded their Slane performance with frontman Bradfield spinning and gliding effortlessly around the stage. This was a display of energy and verve that remained undiminished throughout the set and the explosive opening was backed up by other crowd favourites 'Motorcycle Emptiness', 'You Stole The Sun From My Heart' and 'Everything Must Go.' All delivered with crashing choruses and nothing less than utter determination.
It was the mysterious Richie (who, according to Nicky, had a fondness for Irish drinking sprees) who was not forgotten in a spirited rendition of 'Yes.' Nicky also announced that it was an Irish nurse who inspired his dubious sense of fashion. Inflicted seemed a more accurate term as he bounced around, bonnet et al, looking like an extra from The Little House On The Prairie.
Bradfield then took things down a notch, going solo on the sentimental 'Baby Elian' but it wasn't long before pace was gathered again for a frantic finale. 'Tsunami' proved an awesome appetiser, 'If You Tolerate This...' was convincing as a tantalising main-course and the crowd responded marvellously to the pleading chant of 'Love Us' to set up the most delectable of desserts in the shape of 'Design For Life.' Any thoughts of second helpings were quickly quashed however as little Ms. Wire set about demolishing the stage to the amusement of the satisfied assembly.
As for the venue... A bigger turn out would have examined the organisers more thoroughly but all in all it has to be a thumbs-up. Sound-wise, everything was spot-on and once you had negotiated all the local Artful Dodgers the only problem was the uneven, cobbled ground beneath your dancing feet. Something that might be looked at if Smithfield is to rival the success of Dublin Castle.
JJ72 also deserve much credit for yet another competent high profile supporting role. With proper moulding their time will come but the Manics were simply not going to be overshadowed on this night. Where the summer of 1999 saw a tired and frustrated band, the Heineken Green Energy Festival of 2001 saw a revitalised one - relishing their back to basics approach and clearly enjoying it. Triumphant.
Frank McNally