Madonna
Slane Castle, 29 August 2004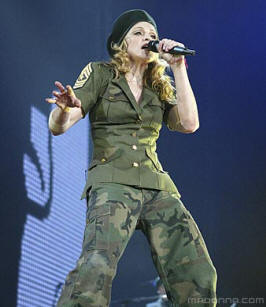 Review Snapshot:
The support acts may have been a damp squib but the 'Material Girl' gave what was possibly one of the finest performances to hit Slane Castle, if not this country. Ever.

The CLUAS Verdict"
9 out of 10

Full review:
Being a Slane virgin, and hearing so many stories about traffic jams and tailbacks etc. I got there early, but was still passed on the Navan to Slane road by the queen of pop herself, complete with a police escort.

As an elite member of her dance pit crew, I had to meet her Tour Manager Alison Larkin, whom informed us of what we could and could not do in the dance pit. "No Cameras, no phones, and no sex. I threw in the no sex bit because I heard about you Irish" she joked.

She was very witty and humorous throughout and she walked us down to the backstage area and arranged to meet us here at 8:15pm. It was now 5:30pm and for the next 2 - 3 hours I had to sit painfully through Paul Oakenfold's dance remixes and Iggy Pop"s shouting.

Dance DJs have never been my thing. Indeed, I would rather have seen Ian Dempsey or Larry Gogan spinning the discs at Slane. At least you'd get two words out of them. Iggy & the Stooges were no better. A set-list of unknown songs, continuous shouting and a constant barrage of f***ing this and f***ing that was hardly appropriate for the young fans in the crowd.

When peace and tranquillity were restored, I went for a walk around and checked out the memorabilia stand at the top of the hill. The tickets weren't the only inflated merchandise. Tour programmes were "30 and T-shirts ranged from "20 - "50 so I settled for the three year-old Drowned World Tour one I was wearing.
As 8:30pm approached it was obvious that things were running late. Alison gave us the official word that Iggy's crew had dumped all their equipment into the dance pits and this all had to be cleared before the concert could begin.

Just after 9:10pm we were ushered into the backstage area and for the next two hours I was only 5 - 10 feet from the great lady. We could see the camera crew filming her backstage (for the upcoming dvd) and her arrival was only moments away.

With the spoken word The Beast Within Madonna finally arrived on stage wearing black hotpants, fishnet stockings, corset and black kinky boots and kicked straight into Vogue. From the opening she demonstrated her yoga abilities, bending over backwards, and walking towards the front of the stage on all fours with considerable ease.

Milli Vanilli look-a-likes sat on swings either side of her during the opening set which included 'Nobody Knows Me' and 'Frozen'. A costume change into military uniforms complete with rifles, provided the theme for 'American Life'. Here, we witnessed some fantastic choreography timed to perfection before she finally took a breather to say hello.

Following 'Express Yourself', she put on a guitar for one of her earliest singles 'Burning Up' (from her debut album). "This next song is an oldie, but a goodie" is how she introduced 'Material Girl' which had everyone in our dance pit going wild.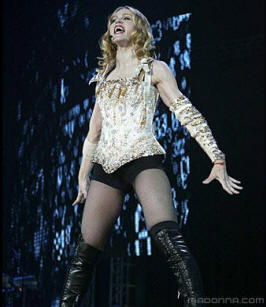 An unusual inclusion of 'Hanky Panky' provided us with a visual fantasy of Madonna being spanked and she continued the sex theme with a seductive and hardly recognisable version of 'Deeper And Deeper.'

"It"s great to be here in Ireland. Jesus Christ ! what took me so f***ing long to come" she enquired, before launching into the dreadful 'Die Another Day'. The song may not be up to much but the fighting scenes on stage and the helicopter explosions on the big screens kept everyone fully focused.

She sat into a large Victorian chair high above the stage for the rather unknown 'Lament' (from the Evita Soundtrack) and followed it with the equally unknown 'Bedtime Stories'.

She moved to the far side of the stage with a guitar for a beautiful performance of 'Nothing Fails'. While the rain poured down on her during this, a large cheer was reserved for the poor unfortunate who had to kneel behind her with an umbrella.

Complete with Stetson she recreated the video for 'Don't Tell Me' and 'Like A Prayer' was the highlight of the night vocally. Thanks to the wide vocal range of backing singer Siedah Garrett (more famous for her duet with Michael Jackson), they were able to recreate the gospel choir sound, and it"s the one song lyrically that everyone within the grounds of Slane Castle were familiar with.

A sample of the Verve's 'Bittersweet Symphony' was heavily disguised throughout 'Mother & Father' while Lisa & Keith Duffy joined us in the pit to watch the show. "I choose this next song because of the words" was her introduction for John Lennon's 'Imagine' which brought out the cigarette lighters.

When the bagpipes appeared I thought we were getting 'Mull of Kintyre' but no, instead Madonna returned, like all her band, wearing Scottish Kilts and tartan hotpants for a great version of 'Into The Groove'. While Missy Elliott couldn't afford the "90 ticket price, her rap vocals were dominant on the big screen and even Myleene Glass was dancing to this one in the pit.

Another quick costume change saw Madge return wearing a black t-shirt with the words "Irish Do It Better" written across the front for 'Papa Don't Preach'. Afterwards she threw the aforementioned t-shirt into the crowd, so watch out for it on EBay.

It was nearing 11:00pm when she introduced 'Crazy For You' with the words "It's been a real honour to play here in Ireland. I dedicate this song to all my fans", but the show wasn't over.

She came back for the popular 'Music', and rounded off the night in party atmosphere with 'Holiday' while she and her dancers walked down the V-shaped stage to wave to the crowd.

Fireworks filled the night sky as we left, and who cares whether it was a sell-out, or whether she was desperately seeking Euros. This was one of the greatest gigs ever staged in Ireland and when the DVD is released, those that were there or not will realise this was a night to cherish. Madonna is certainly in a league of her own.
Mick Lynch

Check out an alternative CLUAS review of Madonna in Slane.


Check out the CLUAS.com's comprehensive profile of Madonna (originally published on the site back in August 2002).