Low (support from the Cannanes)
The Basement, Sydney, Australia, February 13 2002
Tonight's support slot was a much-coveted item I would imagine and one which The Cannanes seems more than keen to rise to (despite a lead singer who seems intent on telling the audience how crap her own band are in comparison to the wonderfully warm and compelling sound which is to follow). I had never heard of The Cannanes before this gig, but I have bought a single since (which dates back to 1988, so The Cannanes are obviously a very persistent bunch). Their sound is an amalgamation of weightless folk-tinged garage rock / noisepop and melancholy soaked urbantry. I would like to hear more from them before I make up my mind, but suffice it to say The Cannanes are worth a visit if playing anywhere near you.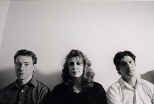 In recent years and similar genres of music it seems commonplace for band mates to be married, first there was Sonic Youth, then came Yo La Tengo, Boss Hog and here tonight, another harmonious couple. Not unlike Ira and Georgia of Yo La Tengo, Alan Sparhawk (vocals/guitar) and his respective partner Mimi Parker
(Percussion/vocals) seem to simply sense each and every nuance and subtlety implied within their music.
Low's sound is a very delicate blend of mellow and The Basement is the ideal setting to see them in. They play with a poignancy and perfection and it does not go un-noticed by the crowd, who pay them the greatest compliment of all - they keep quiet during the songs.
While they seemed keen to play some requests, one girl was relentless in her badgering for "Down By The River". Having ignored the girl for at least four songs they finally give in, eager to please their fan. However as they begin the slow steady descent into the said song, the girl in the audience pleads with the band to play her request at which point Zak Sally (bass) turns towards the girl and while obviously irritated by her insistence he puts it politely by saying, "You can stop saying it now, that's what we're playing, although the best is yet to come". Mid-way through the song Alan loses interest in playing it and obviously not content with one-guitar stops and turns towards the girl and says "you should have heard it in Melbourne when we had Mick Turner playing with us". Unperturbed the girl still not content says 'you don't need Mick" to which he retorts, "Everybody needs Mick". This alone was worth the price of admission and having been fortunate enough to have seen Mick Turner play with Will Oldham a few months ago it's a sentiment with which I wholeheartedly agree. Their cover of "Last night I dreamt" was stripped, stark and slow but as a result exposed element of the song which The Smiths version couldn't.
The majority of the other material they played came from their excellent Steve Albini produced "Things we lost in the fire" album, with a few old favourites thrown in for good measure. All up Low proved themselves worthy of the otherwise reverent audience and - in a word - perfect.
Harlowe

Check out the CLUAS interview with Alan Sparhawk of Low