Kristin Hersh
HQ, Dublin, April 28 2001
As the stage lighting shrinks to a gaslight glow that illuminates her face and, offset by deep shadows, those doll-like staring eyes, the chin juts gently forward and the head begins to lilt from side to side in that familiar, rolling manner. And as the voice lifts out of that petite frame husking a broad and breathy voluminous sound, we feel the skin knit around the back of the venue as we are drawn further into her warm, spun-purple womb.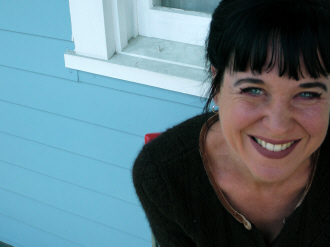 These songs, strange constructs, work in a context of Hersh's own making - no band this time to offset their raw complexity. The performance becomes a journey through a catalogue that spans some fifteen or so years, for one so young, a singular adulthood spent in music. From songs as new as 'Spain' from the current solo album, to selections from early recordings with the Muses - all the way to 'Delicate Cutters' at the end - and, in between, songs older again, her readings of twisted-mountain tales from the Appalachian undergrowth - fables of America's barbed antiquity. Here, spare and bloody human horror, the stricken innards of a close and closed society - 'Cuckoo'- exposing her Southern roots.
That voice, at once maternal and demonically possessed, not so much rattling the cage as punching its way through the bars to spiral out around us - magnetised and dizzy. 'If I were a man I'd have a gun', and if she were a woman not so many hundred years ago, a spell like this might have seen her tried at Salem. The same spell smartly and unaffectedly broken by her droll between-song banter, and our resultant, ready laughter.
Twice returning to her illuminated seat and guitars that wait as best friends do, before the glow recedes, the skin breaks and we are cleanly expelled - back to the forgotten venue. Reborn.
Carol Keogh