Kings of Leon (support: Ben Kweller)
Review of their gig in the Olympia Theatre, Dublin, 16 December 2003
Ben Kweller is playing support tonight. Like a young and quirky Beck Hansen, Kweller is the archetypal all-American geek made flesh, in that laid back indie way. Kweller must be sick to death of the Beck comparisons, the similarities are there, but one wonders how much of it is contrived and how much is genuine. Unlike the dynamic and eclectic Mr. Hansen, Kweller's songs don't quite carry the same weight, a little bit too off-the-cuff guitar pop in parts, a little too light-weight lyrically.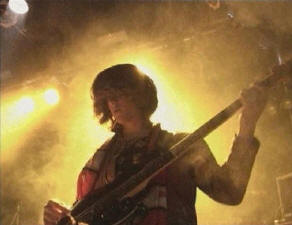 Kweller tonight opens with a take on Vanilla Ice's 'Ice Ice Baby', a track he has renamed 'BK Baby' and immediately wins over the crowd with his charm. The band race through a good set largely made up of songs from debut album 'Sha Sha', with Ben jumping from piano to guitar with ease. The songs are refreshingly simple and catchy but without a whole lot of substance. He does delve into some nice punk-ish riffs and starts to explore some good sonic sounds, but seems to just stop short of getting there. However, they are pretty big shoes to fill if Beck is the standard he is being held up against, and Kweller is still in his very early twenties. Having played in a band since he was 12 he is confident on stage, without being cocky and his humour shines through. Certainly one to watch out for in the future.

The tension in the air is almost malleable as the crowd anxiously awaits the Kings to take to the stage. Will they live up to the hype? Many of the punters here saw them play the Witnness gig last summer, where a tired and flu-ridden band tried their best to give their all. They did manage to pull it off and played a good set, enough at least to make many want to see them again, in their own right. The rest of the crowd that didn't catch the Witnness gig have enthusiastically taken the band's debut album 'Youth and Young Manhood' to heart and are anticipating a good show. They've collectively had a taster? now they want the real thing.

Thankfully the Kings of Leon more then meet their expectations. From the moment they swagger on stage the band takes command of the venue without saying a word, and launch straight into a snarling 'Red Morning Light'. The crowd goes ballistic. The stage is awash with an eerie electric blue light, while the Tennessee four-piece compose themselves. What follows is a primal guitar-driven set. A frantic 'Spiral Staircase', the dark lyrics of 'Joe's Head' and singer Caleb's wail "I can't find no place or nothing / Where thrills are cheap and love is divine" on 'Dusty' are a testament to their take on disillusioned youth.

The band look surprisingly fresh for nearing the end of a 20 date tour and while they exude plenty of confidence in their playing and are clearly at home on stage together, they are more modest then you'd expect. For all of their swagger they fidget between songs and seem genuinely chuffed with the crowd's reaction, even though they have by all accounts had this kind of reception all over Europe. They don't say much except the odd 'Happy Christmas', and leave the music do the talking.

Bassist Jared, the youngest of the brothers at 17, is perhaps the most animated of the four, pouting and self-assured. He begins a slow, teasing version of 'Molly's Chambers', their breakthrough debut single, almost bringing the crowd to its knees and then launch into it proper, and a packed out Olympia theatre goes mental once again.

The Kings carry an air of seasoned musicians, but the relatively short space of time that it has taken them from being signed to reaching this level means the songs still sound fresh, still have a sense of urgency and a passion. They've an uncannily mature ability to use story telling in their songs that belies their youth. The line in Holy Roller Novocaine "Don't worry baby, you won't feel a thing" could have come straight from the mouth of Johnny Cash. The songs have the energy of full on rock and roll, but are also underpinned with gospel sounds and gritty deep-south blues.

The songs proceed to give us an insight into what life as the sons of a travelling Pentecostal Evangelist may be like. There's probably not a soul in here that can identify with that, but at this very moment they epitomise the classic band that all guys want to be in and all girls want to fu*k. You can smell it in the air.

The highlight of the gig is without doubt the beautifully irreverent 'California Waiting'. Caleb's southern drawl sounds particularly caustic as he sings of disdain for the industry. By the end of the gig the punters are sweating and dishevelled, but grinning madly. It seems it's been a while since most of us have seen a band play with so much passion. Holy rollers indeed. Long live the Kings!!
Dromed

Check out a CLUAS review of Kings of Leon's EP'Holy Roller Novocaine'