Josh Ritter & Band
Review of his gig in Whelan's, Dublin, November 11th 2001
'I've got a worried mind - I know. I hear the ghost of Patsy Cline on the Grand Ole Opry Show.'
Woody Guthrie once justified his lyrics by claiming 'you can only write what you see.' With Josh Ritter we can see what's been written. Tonight in Whelan's his small songs provide larger windows on the world of the suburban Midwest, growing up there, leaving and returning. As the singer himself advises 'you should go to Omaha after you've seen Disneyland or Hollywood - it's cheaper but you'll enjoy it more.'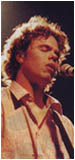 And most of the songs tonight reflect the friction between life in a suburban mid-West town and a notion of 'escape' to the road, the city, the country - wherever. Leaving a small-town love, Ritter sings: "West of her there's a place I know / Never been but I'd like to go?You'll probably end up thinking that I don't care, when you get a letter from a new somewhere."
But Ritter sings these songs without nostalgia. The places and people who populate them are not pieces of long-lost personal history or country pastiche. In 'Me and Jiggs' he might recall a time when "we were sittin' on the porch, playin guitar to burn off the hours / til we climb the fences at the edge of town and paint our names on the water towers", but he sings as if he's never left.
There's a homely edge here which has echoes of, for example, Garrison Keillor's radio broadcasts. Ritter sings the wistful, romantic alternatives of people who live in Keillor's mid-West towns where 'the fences are all picketed, the cars running smoothly, and the children all above average.'
Tonight, the power of the songs belie their modest surroundings and performance. There are maybe a dozen stand-out tunes on display - the best of which came across when the band decided to take a break. The solo performances of 'Leaving' and the dusky 'Fireflies' were memorable, but the pinnacle was 'Bone of Song' - a lyrically intricate fingerpicked examination of the history of the Muse, from the Greeks to 'Auld Lang Syne', which the singer modestly introduces as 'the song I wrote in Dundalk'.
It's often hard to write of a performer like Josh Ritter without re-hashing his country/folk antecedents. Clearly there's traces of Townes Van Zandt, Johnny Cash and even early Tom Waits in his themes and arrangement, but the originality of the material, and in particular the freshness of the lyrics, ensures that such comparisons are of minor import.
One more subtle influence may be that of Woody Guthrie, in particular the lyrical themes of Guthrie's non-political songs (showcased recently by Billy Bragg with Wilco). When Ritter sings unplugged in 'Lawrence, Kansas' that "dirt roads and dryland farming may be the death of me / But I can't leave this world behind", over his shoulder we can hear dusty echoes of Guthrie's 'Ain't Got No Home In This World Anymore'.
But this is Josh Ritter's night, and these are his songs. He closes the set intimately, despite the needless presence of the Frames onstage, with the lovelorn 'Beautiful Night' and, ultimately, a wistful version of 'Come and Find Me'.
In a business of noise and bluster, at last we feel a clear breeze. The ghost of Patsy Cline must be smiling.

Photo courtesy of Barbara Lindberg.