Jimmy Eat World
Review of their gig in the Ambassador, Dublin, May 23rd 2002
It's been four months since that memorable night in January when Jimmy Eat World played their first show in Dublin. Since then they have been touring extensively across America, on the 'Pop Disaster' tour, with Blink 182 and Green Day. Six shows this side of the Atlantic, and then it's back to America for their own headline tour.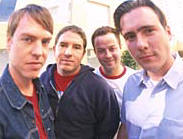 Fenix*TX, were the perfect opening act; youthful, energetic and capable of whipping any crowd into a frenzy. Dealing in 'rocking out' and lacking in subtlety they exude the type of energy that only truly passionate musicians can. The crowd loved it and responded in the appropriate fashion. They finished their set with the recent single 'Threesome' and an impressive version of Nirvana's 'Territorial pissings'. Oh yeah - for anyone uncertain of what the term 'drum fill' means, just ask Damon Delapaz, drummer of Fenix*TX, who is more than capable of providing an adequate answer to that puzzler...

Jimmy Eat World keep the music simple and straightforward, no need for complicated rhythms and intricate time signatures, fancy drum rolls are for beginners. All you need is a black shirt, a Gibson Les Paul or two, and a handful of supremely catchy songs. The latter they have in abundance, the former in single figures. From the shadows of backstage they emerged; and quickly broke into 'A Praise Chorus', followed by 'Bleed American', both from the current self-titled album. Songs from the older albums made sporadic appearances, but the biggest roars were for the more recent material, in particular 'The Authority Song', 'If You Don't Don't' and the two encore songs, which were the recent singles 'The Middle' and 'Sweetness'.

Tough to fault them?perhaps they could have stayed on stage longer? Perhaps they could have acquired a more spectacular light show? Perhaps they could have all worn black shirts, instead of just Jim? Perhaps, perhaps, perhaps?
Gavin McGuire