The Jimmy Cake
Dolan's, Limerick, May 17th 2002
Following their Easter Sunday support slot to the Acid Mothers Temple in the Warehouse, Dublin's The Jimmy Cake were back in Limerick for their first headlining show at the Alphonsus Street venue. For those uninformed, The Jimmy Cake are a nine-piece instrumental outfit formed out of various other bands such as David Kitt's band, Rae, Dead Plants and many others. Besides your usual guitar/drum/bass combo, the "Jimmys" encompass other instruments not usually associated with rock including a clarinet and an accordion.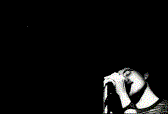 Taking to the stage just before midnight, The Jimmy Cake (minus saxophonist Diarmaid MacDiarmada) immediately settled into their unique brand of music which could best be described as "psychedelic folk". An early highlight, and indeed one of their most instantly recognisable tunes, was the performance of "This used to be the future" three songs into the show. This track is the remarkable opener to their critically acclaimed debut opus, 'Brains', and clearly illustrates how tight as a band the eight members playing tonight are. Other selections were taken from that album also, plus a number of new tracks from their forthcoming follow up. They all seemed to gel nicely together to produce a cohesive and relaxing sound that could be both quiet and loud.
However, the gig seemed to loose a bit of momentum midway through the set. While not the music's fault, there are perhaps two prime reasons for this. Firstly, a loud Friday night crowd got a little worse for wear as it got past 12.30a.m. Also, the absence of a frontman can often take attention away from a band and thus, some of the crowd turned away from the stage. Nevertheless, by the end of the show The Jimmy Cake had the crowd on their side, and there was shouts for encores. They returned to a warm reception and finished off the night's proceedings in style, sending us home satisfied by their warm, glowing sound.
Ciaran Ryan