James Goulden Fundraiser
Temple Bar Music Centre, Dublin, 14th December 2004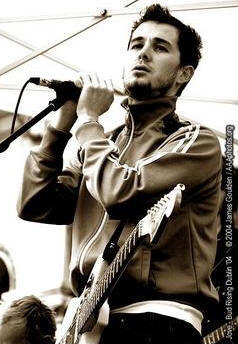 Review Snapshot:
A Tuesday night fundraiser with three up and coming Irish bands, who all offer something different, excelling in front of a small crowd.

The CLUAS Verdict? 8 out of 10

Full review: Freelance photographer James Goulden has been helping out unsigned Irish acts with free photos for a long time now. After covering last summer's Oxegen, HWCH and Bud Rising Festivals, his skills have helped out numerous bands. James' gear was stolen recently and Gigsmart quickly came to his aid by setting up a gig to raise as much as they could to replace his stolen equipment.

There was an under-sized crowd present in the tenebrous venue when Jove started the proceedings. With squealing riffs and eerie keyboard sounds, a haunting ambience was being set in place just as lead vocalist Paul Walsh tapped into the consciousness of the audience. The lyrics of the first three tracks ('Roy', 'In Your Bedroom', 'Crash') revealed imagery of gloomy nature but somehow Walsh's-Matt Bellamy-like singing made the songs that bit more fascinating. Rusty guitar whinings, incessant drum beats and grim keyboard tinglings assisted Walsh's singing, in turn producing sombre music at a sufficient pace. In comparison to their previous gig in the Voodoo, they were on top form on the night. On 'Whitewashing' and 'February', a hybrid of southern fried rock and stirring indie intensity was dished out to the amenable audience. They are a band who can create a cargo of high-pitched adrenaline guzzled rock, but they do it in a way that is original, surprising, comforting and effective. Mark them down as one to catch in the New Year.

Two guitarists and a drummer make up Me In The Park. Named after the manhunt mission to catch a serial killer labelled The Zodiac, there is very little with this band that feels normal. They raise the capacity of the night with some towering Americanised new-age rock in the style of Green Day. The music is kept a final sprint pace throughout and would easily fit into a high-speed action scene in a movie. Their songs are decent with some standing out more so than others but it is the crunching velocity of the music that carries them through their upbeat set. The majority of the crowd seem to be impressed by this Papa Roach-meets-Feeder-with-some-added-spice sound. Me In The Park don't outstay their welcome and sign off with another song that would scare bands like Good Charlotte into re-considering their place as a rock act.

To wrap things up, it was the meritorious New Colour Soul. They are the type of band that makes you want to keep the party going all night long. With some hard-hitting 70s funk, alerting rhythms and soothing melodies, New Colour Soul took control straight away. A groovy feel absorbed the atmosphere of the venue as the sax player (The Pole With Soul) lured the small crowd in with his engaging Pied Piper tactics. 'Life's A Party' excited and 'Truth To Be Told' warmed everyone out of their winter slumber. A great act to end the evening and to top off an enjoyable fundraiser.

Gareth Maher



Feel free to discuss this review on our Indie Music Discussion board.