Jack Lukeman
Backstage Theatre, Longford, February 22 2002
The fastest growing household name in Ireland was fighting fit as the Backstage Theatre Longford hosted the intriguing Jack-L on Friday, February 22nd. Having honed his live magic for a few years now, the lavish incense-scented and packed theatre was picture-perfect as the classical opener "Rooftop Lullaby" commanded silent respect. The Jack-L ensemble embarked on an action-packed yet relaxed "unplugged" performance, complete with two encores, audience walkabouts and participation and repeated tulip launches.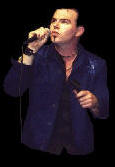 Having been declared by Hot Press as "Ireland's first superstar of the millennium", tonight's show was a stirring and potent account of Jack's musical career to date. The mature influence of Jacques Brel colludes discerningly with his new musical direction, while the Brel influence is ever-present, even in new tracks like "Sun God". Highlights included an energized "Port of Amsterdam", "Don't Fall in Love", "Lazarus", the travelling song "So Far Gone" and the snappy "Can't Find Love". Jack invoked the age-old custom of "teaching the chorus" for "Little Man" before "Bed Springs" had the Longford audience howling at the moon.
Upping the ante, Jack conscripted Leonard Cohen's distinct "Alleluia" to the set which flanked Kylies "Can't Get You out Of My Head" and demonstrated how relaxed he is these days! Balancing perilously on a stool (where else?), a resounding "Georgie Boy" contrasted starkly with the unaccompanied stage-front rendition of "Old Man River", which thrust the encore into a deeply captivated silence. The Mexican tune, "Happy Death" concluded the proceedings as Jack saluted Longford and slipped away mid-song to be followed one by one by his artistic contemporaries.
Jack-L cannot be contained by vinyl or disc. His "old school" performances combine Elvis Presley's sexy hip swinging antics with the subtle and velvet tones of Frank Sinatra (to name but two). Tonight testified to the fact that seeing him live is the best way to grasp the depth of his vocal talent and charismatic stage presence. Even without numbers like "Ode to Ed Wood" and "Garter Lane" in tonight's set; not to mention the absent feather boa, a sizzling performance like this calls to mind the celebrated MTV unplugged sessions of the last decade, the good thing being that you cannot unplug this man's voice.
An Ghars?