Jackson Browne
Escondido, California, 9 March 2004
In the US we have a TV program called American Masters. That's what I was reminded of while watching Jackson Browne perform a couple hours worth of his large repertory of songs. He is an American Master of his art, currently touring alone, playing solo acoustic.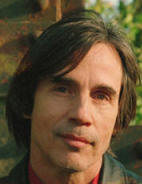 The stage was stark black, with 13 of his acoustic guitars, an electric piano, a chair and an old Fender amp. It was just the songs, in their stripped-down beauty.

I wasn't a big J.B. fan back in the 70's, when most of these songs were written. I was in the "Better Dead Than Mellow" crowd. The L.A. sound of "Mellow Rock" wasn't for me, and has since been run into the ground by endless repetition on "Classic Rock" stations. But hearing Jackson sing these songs in their purity gave me a new understanding of their power and beauty. Without the backing band, these songs left behind being soft rock hits, and became folk songs, more in the line of Dylan/Guthrie/Leadbelly and a load of white & black folkies & bluesmen. Jackson starts playing slide guitar, and turns 'Bright Baby Blues' into a hardcore country blues. His voice is better than ever, and you get the feeling that this is a guy who is in his performing prime, very comfortable with his art and with his audience, who knows he has a large group of first class songs to draw from.

It was also cool that he sang a couple of Warren Zevon songs, as they were good friends and collaborators. And, being Jackson Browne, he did throw in some political content that didn't get as much applause as one might hope for. After a few words about the state of the world & our current political leaders he played a 1-2 punch of 'Lives In The Balance' and 'I Am A Patriot'. He then went back to his balance of songs about death and songs about heartbreak. In between there were songs about the power of love that were so honest and strong in this setting. He should put out a live album of this tour.

If he comes around, give him a chance. It's a great show.

John Ford

Jackson Browne plays the Olympia Theatre in Dublin on 19 November 2004.