I am Kloot
Half Moon Theatre, Cork, 15 Jan 2004
I am Kloot returned to Leeside in buoyant form. On the back of a successful appearance at this year's Eurosonic Festival, they opened their first Irish headline tour to a full capacity crowd. Tonight's set at the Half Moon is composed of songs from both the band's debut "Natural History" album and their latest eponymous titled long-player with a sprinkling of new tunes.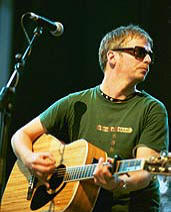 Unlike many previous Manchester born front-men, Johnny Bramwell (lead singer) does not indulge in any distinctive stage posturing. Instead he remains perched on a stool for the entire gig conveying an everyday man appearance which actually adds to the group's wide appeal. Opening with "Twist" ("a song "about love and disaster"), we are taken on a journey of dark reflection, on everyday tales of love found and love lost. This musical trip is intertwined with Bramwell's distinctive banter with the crowd and his making every effort to win us over with claims such as "I'm not drinking Guinness out of respect."

Tunes such as the Dylanesque "Proof," and the soulful yet haunting "From Your Favourite Sky" serve to illustrate how well crafted this trio are. But it is the infectious "Life In A Day" which is the real highlight, with its funky, almost hypnotic drum beat that leaves you thinking there must be some African blood in this band.

At times I Am Kloot display a form of brutal lyrical honesty rarely seen since the days of Whipping Boy. Indeed like Whipping Boy they are quickly amassing a cult following everywhere they go. And with their obvious talent for creating pensive and melodic sound-scapes these Northerners showed us they have soul.
Mark McAvoy