Eleanor McEvoy / Something Happens
Paradiso, Amsterdam, February 2000
As with sex and drugs in Amsterdam, it's amazing how the city chooses to manage its rock 'n' roll. Indeed there was a method behind the madness of having top of the bill Eleanor McEvoy perform second in tonight's quadruple Irish line-up. It seems the organisers knew something about the 1,000-strong audience's demographics that the performers themselves failed to grasp—that they were mainly Dutch intent on partying rather than Irish expats.

Arriving onstage alone, guitar in hand, Eleanor served up a short but striking set of a dozen tunes culled equally from her three albums. Lead songs 'The Fire Overhead' and 'The Boundaries of Your Mind' were instant reminders that this woman shoots straight from the heart.
Once joined by Liam Bradley on percussion, 'Did You Tell Him?' started with dampened guitar strums and Eleanor's voice evoked the half-whispered vulnerability of 'Luka'-era Suzanne Vega before transforming on the choruses into the searing, bruised despair of early Melissa Etheridge. It provided an early set highlight thought the heartbreak that is 'Sleepless' came close with its taste of venom and the vocals occasionally touching on an achy, country music whine of release.
Though trying to prove that 'There's More to this Woman', Eleanor also acknowledged 'A Woman's Heart' - an instant crowd pleaser that had embracing couples swaying and singing in unison. Her between song banter was appropriate for any audience, but she slipped when introducing 'Easy to Lose Hope' by saying her new album was not available in Holland but "any of you going home to Ireland can pick it up there". Were the natives overlooked?
For the encore, Liam's whistles on 'Please Heart, You're Killing Me' raised cheers from the crowd, and Eleanor kept the upbeat feel by closing with 'Biochemistry', a song about sex.
After Eleanor's shell-shocked brilliance, it was time to increase the RPM and provide the men's rock 'n' roll perspective as Something Happens took the stage. Though individually occupied with other music related endeavours including Tom Dunne's multi-facetted media forays, the members still exist as a band on select occasions.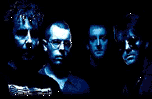 Contributing 18 tunes tonight, it's easy to observe why they'd been previous contenders for Ireland's rock 'n' roll throne. Set opener 'Daisyhead' effortlessly combined subtlety, strength, power and passion with vibrant lyrical images flowing like blood from a man's wounded heart. The lyrical revolving door policy of unreleased set staple 'Choke' gave a nod tonight to Pet Sounds (the album) as Tom nicked the intro to 'God Only Knows' before elucidating the pitfalls of being in a band.
Always strong live, the bass-lead 'Devil in Miss Jones' with its ode to a porn star easily evoked visions of the local red light district. Normally brilliant live, the lovely 'Forget Georgia' suffered from lack of feel, but the subtle vitriol of 'Kill the Roses' was as acidic as ever. Tom asked the crowd if they were Irish with a resounding "no" response. Unfortunately, he then asked if he should speak slower. All was forgiven by the time they played their major Holland hit 'Parachute'. They encored with a cover of Sabrina's European hit ' Boys (Summertime Love)' and their own gentle lust song 'Be My Love'.
Tonight's two headliners proved that there is an audience abroad for heartfelt Irish rock 'n' roll. The Corrs they aren't - both acts have too much live passion for that pop trap. Unfortunately that didn't stop an audience member from complaining about lack of traditional instruments. His wish was granted as Ontario's The Mahones then provided their highly competent tourist Oirish that segued into a DJ set of similar songs. The predominantly Dutch crowd lapped it up.
Barbara Lindburg