Handsome Family
Review of their gig in Whelan's, 8th May 2001
The Handsome Family are one bulk slice of authentic, loony-toon Americana. With authentic American voices: Brett's deep-barreled tones oddballing Jim Reeves, and Rennie, when heard singing lead which is seldom, making a strange, nasal caterwaul - Applepie Mom on acid, turned nasty 'Down in The Ground'.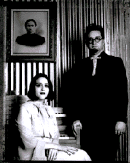 Southern-fried country weirded up some. Skewed lyrical pokes at Regular Joe: a kid burns creatures with a magnifying lens 'at the age of ten'; a million birds inhabit the heart when love comes knocking and everyone is just trying to become 'weightless again'. Auto-harp, melodica, harmonica, guitars and, on one song, a washboard. And that infernal Minidisc player becoming the focus of lazy Texan frustration, misbehaving as such machinery tends to do in live performance. Setbacks are laughingly dealt with though, and we get to further witness the Sparks' (no, their name is not really 'Handsome') marital kook-harmony - Rennie telling us offbeat girlhood stories and Brett good-naturedly grumbling at the machine, in his very John Goodman way. They all but squabble between songs but it's exactly this full-on, extroverted colour of all-American, 'awh shucks' neurotic insecurity that makes the Handsome Family so engaging.
They manage to squeeze in two encores, the second of which sees Brett follow on from his solo starter, straight into another song before Rennie has time to join him for the melodica intro, so she rolls up her eyes and slouches about in the background, making us laugh. Endearingly homey and savagely weird, this is country with a hidden indie heart. By her own admission, all Rennie wants to do is go back to their hotel room and watch TV because 'TV is so relaxing'. But at the end of the day we just want the Handsome pair to be our friends, come to our houses, sit on our porches, drink our wine, eat our food? and hopefully not murder our pet rabbits!
Carol Keogh

Check out a review of the Handsome Family supporting the Pernice Brothers back in 1999